Child Begging: A Social Menace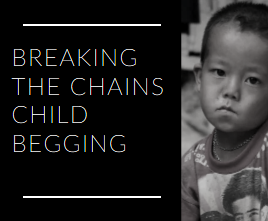 The moment you stop your car at the traffic signal, you are likely to see a dirty looking woman with a child in her arms, a little boy with running nose banging your window, or a handicapped old man asking for alms. This is a common sight in India. You will find many such people at the railway stations, metro stations, tourist spots, in temples, and many other public spaces. At times, because of sheer, fear of being cursed by God, or irritation, we tend to give some money and shoo them away.
Child begging is a type of begging in which under 18 boys and girls beg, mostly under psychological and physical coercion. A UNICEF study reported that 13% of trafficking victims in South Eastern Europe have been trafficked for the purpose of forced begging. Forced begging is often imposed by family members, with parental power leveraged over a child to ensure that begging is carried out. Incidences of this practice have been recorded by the World Bank in South and Central Asia, Europe, Latin America, the Caribbean, the Middle East, and West Africa. Studies conducted by the UNICEF suggest that while boys are trafficked for the purposes of beggary, girls are trafficked for the purposes of sexual exploitation. The ILO has reported that at least 600,000 children are involved in forced begging. The problem may be much more extensive for real. China's Ministry of Civil Affairs reported that as many as 1.5 million children are forced into begging. A study done in Senegal by Human Rights Watch projected that a minimum of 50,000 children within the country and neighboring nations have been trafficked for the purposes of begging. Begging is often the primary source of income for street children in a number of countries, such as Zimbabwe. Child beggars can be seen in every city and town in India. There are an estimated 300,000 child beggars in India, although some organizations claim them to be one million. Every year, 44,000 children fall into the clutches of the gangs. Some children are victims of dangerous beggar mafias and gangs, which abduct children, cut off their limbs and blind them, and then use them for begging. They become victims of the forced beggary racket.
The gang keeps a check on the child beggars so that they are not able to steal any money. If the children are found doing so, they are beaten up. Some children pay the cost of running away from their native lands by falling prey to bonded beggary. For others, it is the last choice to avoid a threat of being turned into a prostitute or served before any pedophile. (Datta, 2013). Sedated infants are used by women to beg. (Balaganessin, 2012) Many child beggars are addicted to solvents, alcohol, and charras (hashish often laced with opium). This makes the children forget where they are, which in turn helps the gang masters to keep them under control.
These children face poverty, loneliness, sexual, and physical abuse. They lack love, affection, and security. Some of them die an early death, while some others grow up to be social misfits and criminals.
Suggestions to eliminate child begging include:
· Compulsory schooling for all children
· Sympathetic teachers and child friendly environment in schools
· Ban on corporal punishment
· Compensation and stipends to parents/children on the basis of attendance
· No alms drive to educate the public
· Punishment to adult guardians and criminals for using coercion with children
· Punishment for kidnapping and maiming of children
· Welfare policies for child beggars and their families, such as monetary help, health, and residence, etc.