A nation is as prosperous as the health of its citizens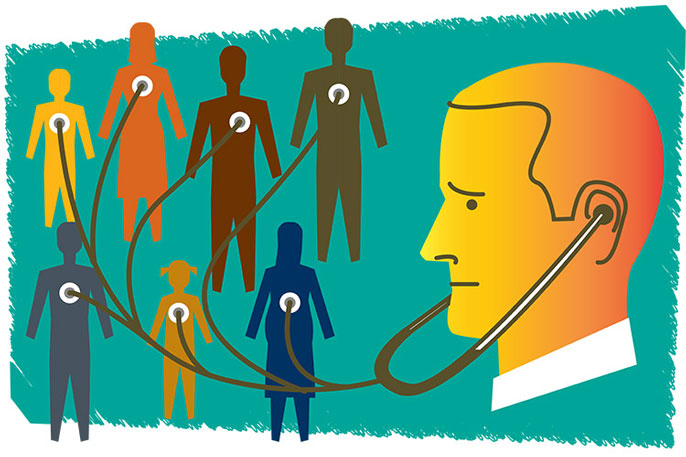 Every nation lays its foundation stone on the health of its citizens. Here health may include physical health or mental health. When the citizens of a nation are fit and healthy, they contribute more towards the development goals of the nation. "Universal Health Coverage" is a mechanism or law made to provide good quality and economical health care services to each and every citizen of a nation irrespective of category to which they belong. Faithfully, India has always shown the concern towards the health care and has launched different schemes to fulfill the purpose.
India has launched Ayushman Bharat as one of the most ambitious health missions ever to achieve UHC. Ayushman Bharat encompasses two complementary schemes, Health and Wellness centers and National Health Protection Scheme. Health and Wellness centers are envisioned as a foundation of the health system to provide comprehensive primary care, free essential drugs and diagnostic services, whereas National Health Protection Scheme is envisaged to provide financial risk protection to poor and vulnerable families arising out of secondary and tertiary care hospitalization to the tune of five lakh rupees per family per year. Indeed, the dream of achieving UHC or health for all has been a long-standing one for India.
But we still lack manifolds in presenting good health care services to those who can't afford it. We still depend upon private sector for quality treatments or treatments of major illness like cancer. On the other hand there are only 0.65 doctors and 1.3 hospital beds per 1000 person in the country. Which itself explains the poor health care system of India. India have second poor life expectancy rate in its neighboring countries after Pakistan. India ranks 158th in investing in education and health care sector which is a clear indicator of its present condition. India may have shown the signs of growth in the sector but we still have a long way to go.
To address health inequalities and improve health outcomes, an architectural correction in public healthcare system was made by the Ministry of Health and Family Welfare (MoHFW) through National Rural Health Mission, which was later redesigned as National Health Mission (NHM) to strengthen both rural and urban public health infrastructure, human resource capacity and service delivery. NHM was complemented by other key initiatives that included Janani Suraksha Yojana and Mission Indradhanush. Rashtriya Swasthya Bima Yojana (RSBY) was another innovative initiative launched by the Ministry of Labour and Employment (now with MoHFW), which provided financial risk protection to poor families through government-funded health insurance. However, in spite of all the efforts, the total health expenditures (THEs) in India remained at 4.7 per cent of gross domestic product.
Evidence suggests that not only hospitalization but also outpatient care leads to impoverishment of households. For families living on daily wages, hospitalization probably is the last resort in an illness episode as it not only leads to catastrophic expenses but also to loss of wages of more than one earning member of the family. In addition, a healthcare consultation unleashes additional demands for health such as care for comorbidities and patient support services, and many of these services are not covered as part of health insurance.
But even after all the hustle we are continuously trying to provide better services every day. The most important factor to keep in mind is that we value the life of every individual more than any other nation. You may have discussion on this but they won't be worthy. With such a large population and diversity it's tough to achieve success in a day or in a year, but we will surely achieve it sooner or later.