DEPRIVED OF THE BASIC RIGHT TO EDUCATION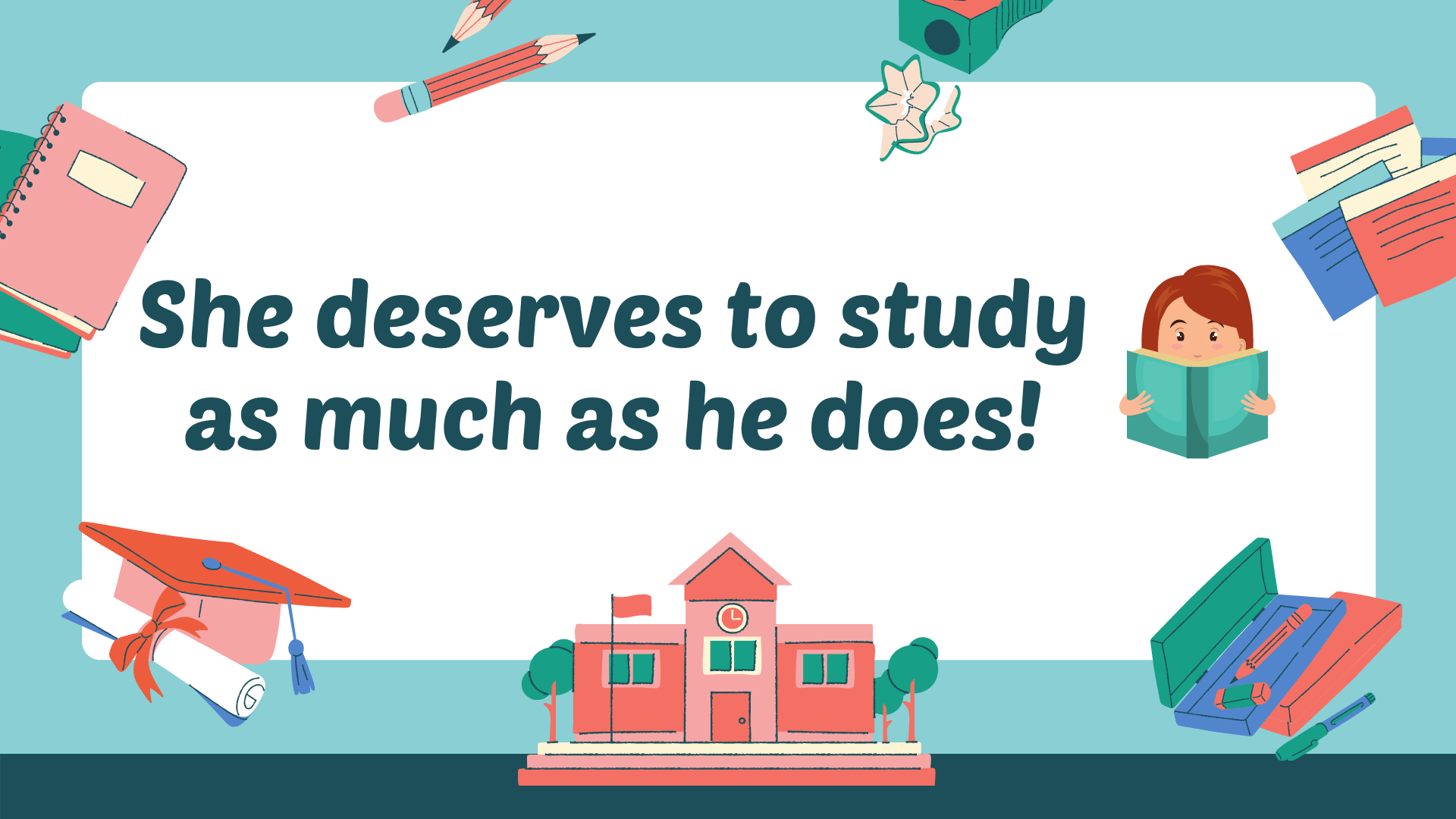 By 1991, 39% of women and 64% of men were literate (RGCC, 1993). Thus, there has been a large increase in the proportion of literate women, in just 20 years. While there has been much improvement in the literacy rate of our country, there still lies a big gap in the literacy rate of men and women.
Education is important for everyone. Education gives us the knowledge of the world around us and ideas for making it better. Rural people think education is not necessary for life. Constitutional Amendment in Article-21 has made education a fundamental right. But in rural areas, people do not allow women to be educated. They are unable to develop their area due to this mentality. They think that women are born to do household work and men are meant to do outside work. Since childhood, a young girl faces disregard in terms of healthcare, education, and development opportunities because of her gender.
Many studies show that non-educated women face more fertility and mortality, poor pediatrics, financial instability, and exercise little authority in her own house. A woman's need for education also incorporates curbing the negative effects on the well-being and well-being of her children. For instance, a later study in India found out that the newborn child mortality is inversely proportional to the mother's education level.
There was a time when 'female foeticide' was common in main parts of India. People killed girls before birth or even after birth because they regarded them as a burden. In rural areas, majority of girls are either engaged in agricultural activities or household work, because rural people do not allow girls to go outside for work or job. Families do not celebrate the birth of girl and if a couple happens to have more than one girl child, it is considered as a curse.
It is estimated that 45% girls dropout of school between grades 1 and 5 (The World Bank, 1997b). Girls are often taken out of school to share the family respon­sibilities such as caring for the younger siblings.
According to the latest census, there is a wide gap between the female literacy (65.46%) and male literacy rates (82.16%), which is even worse in the rural parts of the country (58.755). The Indian Constitution recognizes education as a fundamental right through a Constitutional Amendment in Article 21. The Right to Education Act 2009 mandates the provision of free and compulsory education for each child in the age group of 6-14 years. According to the census of 2011, there are still about 32 million children, aged between 6-13 years, who have never attended any educational institution. Majority of them are children from Dalit, Adivasi, and Muslim communities. According to UNESCO, there are an estimated 130 million girls between the ages of 6 and 17 out of school. 15 million primary school-aged girls will probably never enter a classroom in their lifetime.
Why do Women Lack Education?
In rural areas, the main cause is disinterest in schooling. Some more reasons for not educating girls educated are: -
Poverty
Child marriage: In rural areas, parents marry off their children before the age of 18. 27% girls are married off before their eighteenth birthday. Poor educational opportunities for girls increase the vulnerability of girls to be forced into child marriage.
Distantly located school: People don't allow girls to travel far from their villages for education. 'Social and Cultural norms pose a lots restrictions, due to which girls are unable to enjoy their freedom. Girls are considered as a liability and due to safety issues, especially after puberty, they are married off quite early on. India ranks first in terms of child brides in comparison to other countries.
Lack of separate toilets and poor infrastructure is another main reason for rural parents not wanting to send their girls to school after primary. Hygiene and proper facilities are unavailable for them. They are not given proper sitting arrangements that can even worsen their health, especially during menstruation. It becomes hard for them to survive in such improper conditions. Poor infrastructure is another barrier in their education.
From childhood itself, people engage girls in household work or agricultural activities due to which the latter never get chance of attending school. The girls who attend school are not able to participate in the educational process due to gender and caste discrimination. Most schools are built outside the village area, in turn aggravating the issue. Due to poor safety in schools and distance from villages, people don't allow girls to get educated.
Numerous guardians think that teaching their sons is an investment to the family while teaching their girls is a wastage of cash. Since would anyway get married later and live with her spouse, not contributing to financial returns in any way. In addition, daughters with higher levels of education will likely have higher dowry expenses, as they aould want a comparably better educated husband. This functions as a psychological barrier.
Many a times, it has been seen that the parents want to educate their daughter but lack the accessibility to schools. Sending the daughter off to the city for higher education remains the only option. However, sending her alone in a new city is regarded as a safety risk. The availability of quality schools in villages with good infrastructure is needed.
Need of female teachers is another huge obstruction to girls' education. Girls are more likely to go to school and have higher academic accomplishments if they have female teachers. Currently, women account for only 29% of teachers at the primary level (MHRD, 1993). The proportion of teachers who are female, is even lower at the university level, i.e., 22% (CSO 1992). These figures clearly highlight the age-old lack of education of girls to be qualified as teachers. However, the figures will change as those being trained to be teachers are mostly women. They comprise about half of the teachers' population.
Policies and Remedies
There are certain government schemes like the 'Beti Bachao Beti Padhao' scheme introduced by our Prime Minister. However, there would be no actual effect of these schemes if the society does not work unitedly. These schemes can be successful if only they are brought to the awareness of rural villages. India dreams of becoming a superpower by 2020 but with the literacy rate of an underdeveloped country, it isn't possible. We can become the most literate country in the world if only we work together with equality and cooperation.
After considering these problems in rural areas, the government has to build schools inside villages and ensure safety in school as well as outside. Provision of school transportation is also critical. The urgent need is to establish a strong protection mechanism in schools and communities to ensure girls' safety and participation in the educational process. The government should file a case against the people who get their daughters married off before 18 years of age and the ones who kill girls before or after birth. These rules would in turn help in the development rural areas and the rural people's thought process.
There must be awareness initiatives to explain the women empowerment and education. Villages need to know the power of education in a woman's life. If a mother is educated well, the whole next generation is educated. Women must be educated to make them self-dependent. Even if they are ill-treated in a marriage, at least they can raise their voice. Quality education for all needs to be implemented as a right. We must also help the shelter homes and NGOs to make things right.
---
Eshitva Singh
Nice written and well defined the content. It is really amazing and very insightful. Keep it up!!
Sayantee Sarkar
Great work Navya! Proud of you dear
Garima Sharma
Very well written Naritya, keep up the good work going.