GENDER EQUALITY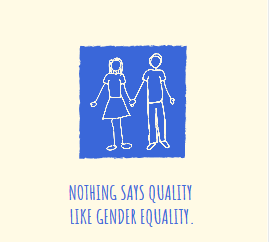 This article examines the extent of gender equality's association with the levels of conflict. The attainment of equality between women and men and the elimination of all forms of discrimination are the fundamental human rights and United Nations values. Despite this, women around the world regularly suffer from violations of their human rights throughout their lives. Moreover, the realization of women's human rights has not always been accorded priority attention. Achieving equality requires a comprehensive understanding of the ways in which women experience discrimination and denial.
This understanding facilitates the development of appropriate strategies and measures. Recent years have seen notable progress with regard to the gender and human rights issues in standard-setting and to some extent, the application of those standards through legislation and jurisprudence, and in institutional programming and development. Some international and regional human rights bodies now go beyond the mere inclusion of 'women' in the list of 'vulnerable' groups, and have begun to incorporate women's experiences and perspectives into recommendations for structural changes.
In addition, recent years have also witnessed the human rights of the LGBTQ+ community people being taken up beyond bodies other than the first human rights bodies too. Despite this progress, many challenges remain unaddressed. Violence against women continues at a staggering rate. Gender-based discrimination persists in the workplace, housing, education, etc. Access to justice continues to get hindered by a range of obstacles. Religion, tradition, and culture continue to be used as a shield for violating women's rights. Same-sex conduct is still criminalized in many countries. It even carries the death penalty in seven states.
The traditional human rights law paradigm, with its focus on the state, may be obsolete in dealing with the human rights abuses by the diverse non-state actors like powerful militias and global corporations. Huge gaps remain and women's realities are constantly changing with new manifestations of discrimination emerging regularly. Intersecting forms of discrimination, by combining factors such as sex, age, ethnicity, nationality, etc., have a particular impact on women, which must be factored into responses.