Hindrances In Women Empowerment In India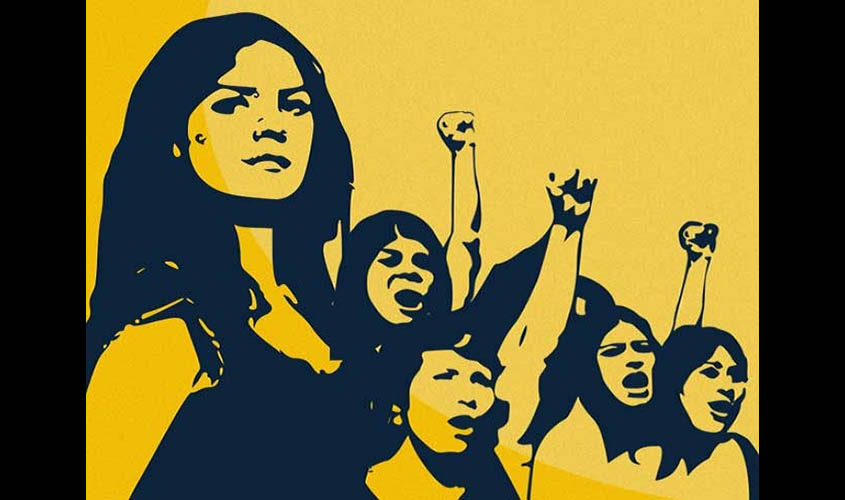 "Women don't need to find their voices, they need to be empowered to use it and people need to be urged to listen"
-Meghan Markle
When we talk about inequalities a term becomes very common, which is Gender'. Gender inequality has always been a big topic of discussion, we see in India. We never failed to discriminate between our own people based on gender, a study says that Gender discrimination kills 239,000 girls in India each year, thus it's a high time we must think about Women Empowerment. Women empowerment means their capacity to participate as equal partners in all spheres of Cultural, Social, Economic and Political systems of a society. According to the Oxford dictionary, 'Empowerment' means the act of giving somebody more control over their own life or the situation they are in. In other words empowers means to authorize. Women are always subjected to suffering in all fields they indulge in, whether it's in the business sector or in their own family.
They are always questioned whenever she does something of her own mind, especially when she does something that in the eyes of society is the work of mens.
Historical aspects of women empowerment
Women empowerment is not a new concept, it is quite a well- known concept around the globe. Women all over the world have been facing gender inequalities since the beginning of history. Women have done many such things in history to create a new place for themselves and for girls in society, but the so-called society imposes it's orthodox thinking on them too. Razia Sultana who was the first female Muslim ruler of the subcontinent and only female Muslim ruler of Delhi was mocked and about her people say that she failed because she was a women, and Gargi who was the most famous figure of vedic India, she attributed about the women's position in vedic period in India, was questioned many times about her Knowledge and intelluctual and moreover there were certain groups who denied women the right to study vedas. Marriage and domestic life becomes compulsory for women which resultant into child marriage practice, which is being practised in some backward areas even now.Women today are trying to understand their position in the society and have become increasingly aware of sexual inequalities in every sphere of life by seeking ways to fight them with pride and dignity Women empowerment does not mean 'deifying women' rather it means replacing patriarchy with parity. However certain laws were also made and some of the patriarchal laws were abolished there to provide women equal rights in the Indian society. It is after the arrival of Britishers in India, Britishers started listening to some reformers and brought many changes for women, like they abolished Sati pratha in the year 1829 with the help of then reformer Raja Mahona Roy and gave a new perspective of widow remarriage which was a great move towards women Empowerment in the history.
Now, on what basis a woman can be empowered:-
Human Rights or Individual Rights
Human Rights are not enough for women in our kind of society, but she needs to have her own Individual identity and freedom to that extent through which she is able to express her ideas clearly and effectively in her speech or writing.
Social Women Empowerment
Social Women Empowerment, hereby means that gender inequalities should be removed from our society, so that men and women can enjoy the same opportunities, outcome, rights and obligations in all spheres of life.
Educational Women Empowerment
Education not only makes a person able to earn a livelihood but it also makes a person confident enough to stand on their own and ask for their rights when not given. It means empowering women with the knowledge, skills and
self-confidence necessary to participate fully in the development process.
Economical and Occupational Development
It is the most important facet of women empowerment, it implies that a woman should not be financially dependent on her male counterparts, she should be made capable enough to sustain and maintain her life on her own.
Political Women Empowerment
Political field is said to be the best medium to reach your ideas to more people at once. Thus by promoting women's participation in the political field will ensure her to promote the concept of women empowerment to a greater extent.It means the existence of a political system favouring the participation in and control by the women of the political decision-making process and in governance.
Current Scenario on Women Empowerment
Based on the ideas championed by our founding fathers for women empowerment, many social, economic and political provisions were incorporated in the Indian Constitution. Women in India now participate in areas such as education, sports, politics, media, art and culture, service sector and science and technology. But due to the deep- rooted patriarchal mentality in the Indian society, women are still victimized, humiliated, tortured and exploited. Even after almost seven decades of Independence, women are still subjected to discrimination in the social, economic and educational field.
Hindrances in Women Empowerment
We face many difficulties while initiating a new idea or when we try to change things that have been going on for a long time. Such difficulties are common because we can't change everyone's point of view at once. Many of the barriers to women's empowerment and equity lie ingrained in cultural norms. Society has always been biased towards women which shockingly begins from the birth itself. Boys are always preferred over girls, female infanticide is very much common in India. The State of World Population 2020 report released by the United Nations Population Fund (UNFPA), the world organisation's sexual and reproductive health agency, said that the number of missing women has more than doubled over the past 50 years – from 61 million in 1970 to a cumulative 142.6 million in 2020. There are many barriers in Women Empowerment In India:-
Health Related Issues
Majority of women in rural and poor families of India suffer from malnutrition, high mortality rate and various medical problems. Women in rural and poor families in India are not provided with enough food which is essential for their mental and physical development.The reason for this is that women's health is not given as much importance as men's due to the prevailing gender bias in the society. Women are the most neglected, neglected and exploited in the rural and poor families of India.
Marriage Related Issues
Girls get married very early in most of the rural and tribal areas of India. Due to early marriage they do not get enough time to complete their education and self development which hinders their empowerment.
Economic Dependency on Man and Lack of Confidence
Economic freedom is the first condition for the empowerment of women. Only a small percentage of women in India are engaged in earning activities. Most of the Indian women are financially heavily dependent on men which hinders their empowerment.
The society is male dominated society where women are given secondary importance in all aspects of life. Women are not given much freedom and independence in the rural areas of the country. Women in rural areas and backward communities of India are not allowed to go out without men, they have no right to walk and talk about their style of dress.Women are given less exposure to the external environment. Due to this they have little or no confidence to communicate in the society which hinders their empowerment.
Women Empowerment and Constitutional Provisions
The Indian Constitution provides equal rights to all the citizens of India. Various articles of the constitution protect the rights of women by giving them equal treatment as men. Many steps have been taken by the Government of India to empower women. Some of them are discussed below.
Article 14 Right to Equality states that all citizens of India have equal rights regardless of gender, religion, class, caste, region etc.
Article 15 (1) says that there is no discrimination on the basis of grounds only of religion, race, caste, sex, or place of birth
Government schemes and policies for Women Empowerment in India
This was the joint initiative by the Ministry of Women and Child Development, the Ministry of Health and Family Welfare and the Ministry of Human Resource Development, this campaign aimed at eliminating female foeticide from the society. It also raised awareness on welfare services meant for young Indian girls, this 'save the girl child' movement was launched on January 22,2015.
This scheme was related to a direct online marketing platform launched by the Ministry of Women and Child Development, to support women entrepreneurs. This is also part of the 'Digital India' initiative. One can register themselves at www.mahila ehaat-rmk.gov.in.
This scheme is popularly known as 'Sakhi'. It was implemented on April 1, 2015, with the 'Nirbhaya' fund. One-Stop Centres are established at various locations all over the country to provide shelter, police desk, legal, medical and counselling services to victims of violence under one roof, integrated with a 24-hour helpline. The toll-free helpline number is 181.
Working Women Girls Hostels
The main aim of this scheme is to promote the availability of safe and conveniently located accommodation for working women. It also has daycare facility for their children, wherever possible, from urban to semi-urban, or even rural areas where women have the opportunity to work. The details for the Working Women Hostel Scheme can be accessed on the Department of Women and Child Development's official website. https://wcd.nic.in/
Suggestions
provided enough safety and support to work.
Women should have access to resources, rights, they should be given the right to make decisions, Powers and proper position in governance. Thus, the Women's Reservation Bill should be passed at the earliest to increase the effective participation of women in the politics of India.

Equality for men and women should be promoted through Gender Sensitization to view what is stereotypical of and reasonable for their gender.

As the Supreme Court of India marks 71 years of its establishment, It's a high time to ensure adequate Women representation in the Judiciary to take up steps to uphold women's rights in the country.
Conclusion
Empowering women socially, economically, educationally, politically and legally is going to be a difficult task. It is not easy to change the culture of disregard for women which is so deeply rooted in Indian society. But that doesn't mean it's impossible. In a day only revolutions bring change, but reforms take time. This, in particular, will also take its time.The idea of ​​women's empowerment may sound daunting by the yard, but inch by inch it is just a cinch. All we need is a focused effort in the right direction that rests only with the emancipation of women from the form of evil.
Submitted by Swati Mishra