Improving Participation of Differently abled in society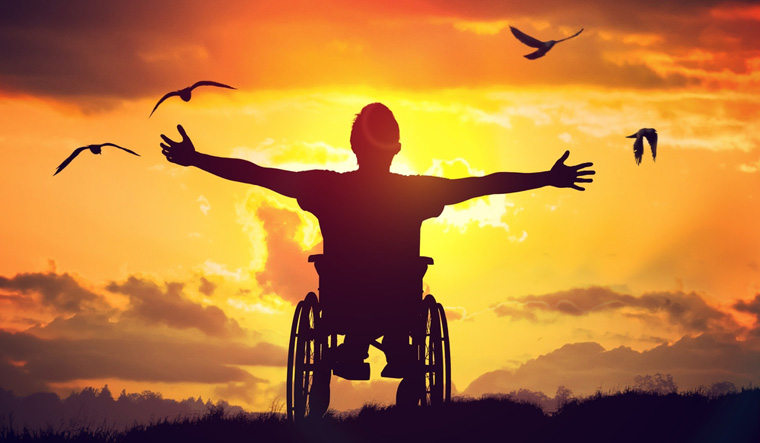 A Society plays a vital role in one's development; it personifies the significance of each individual, including the disabled people, and can allow a more sweeping difference amongst the people coming from any race, culture, history, and religion. It is the responsibility of the people in the society to build it in such a way so that everyone can find comfort, show affection and assist every person with or without any special requirements. Moreover, a positive approach within the community inherits a fruitful and drastic phenomenon that will be engraved for the forthcoming generations.
But some of the individuals who are differently-abled have to face many hardships and obstacles. They encounter day-to-day harassment as a quarter of all disabled people say that they have experienced hatred. Due to their lack of education, they fall behind the other candidates. Even in the labour market, more than 40% of disabled people are low-skilled.
They earn less due to their discrimination in employment as they lack resources to encourage self-employment and have inadequate access to transport. An extra cost is also associated resulting from a disability which may include medical assistance or personal support, making it difficult for them to meet their ends. Not Only adults but Children with disabilities are also marginalized in society. They are separated from other children, kept in special institutes away from their families, and become unfortunate victims of violence.
Some of the most common disabilities which people suffer from are: -
It is a mental disorder that causes above-normal levels of hyperactive and impulsive behaviours. People with ADHD strive to center their attention on a particular task or sitting still for long periods. Both children and adults can have ADHD. About 6.1 % of American children are being treated for ADHD with medication. There are various types of ADHD which include Predominantly inattentive, predominantly hyperactive-impulsive, and the combined hyperactive-impulsive and inattentive type. The cases and determination of ADHD have been progressing dramatically in the past numerous years, and according to the American Psychiatric Association, 5% of American children have ADHD.
It is a disorder related to brain development that impacts how a person perceives and socializes with others, thereby causing social interaction and communication.

In 2020, the CDC reported that approximately 1 in 54 children in the U.S. is diagnosed with an autism spectrum disorder.

Various analysis infers that gene can collaborate with influences from the environment to affect development in ways that lead to ASD.
It is a partial or total failure to hear, can be acquired at any time in life, or is present at birth.

In infants hearing quandaries can influence their ability to procure spoken language, whereas, in adults, it can create difficulties to interact socially or work.

It increases sharply with age; nearly 42% of people with age over 50 have hearing loss, and this percentage increases to 71% with people of age 70+
It is also identified as vision loss which is the reduction in the ability to see to the degree that it creates problems that are not fixable by conventional means, i.e., by wearing specs.

The World Health Organization (WHO) estimates that about 80% of visual impairment is either preventable or treatable with treatment, and as of 2015, about 940 million people have some degree of vision loss, 246 million had low vision, and about 39 million people were blind.
It has been seen that the government and other various agencies have been working for the benefit of the differently-abled people in providing them special arrangements for their movement and independent functioning, created ramps, rails, and many more. In education, they gave readers visually challenged students, mobility devices, and the procurement of assistive devices through various schemes. Many more initiatives like introducing sign languages in numerous channels, making a web portal, and mobile apps inflate awareness have been taken.
Some of the schemes which were launched are:-
This scheme was introduced by National Handicapped Finance and Development Corporation (NHFDC), and the main goal is to provide concessional loans for economic and overall empowerment.
This scheme was launched by the Department of Empowerment of Persons with Disabilities.

Its main aim is to allow people to get themselves tutored at every level to enhance their chances of professional and other opportunities and support people to have decent and reputable places to stay and have a pleasant life.

Under this scheme, with the cooperation of several NGOs, differently-abled people are assisted at an early stage of life.

This scheme also visions about providing ample variety of assistance needed for the rehabilitation of persons with disabilities.
It helps to purchase various accessories that help them live a more fruitful life, promote their physical movements, social and psychological rehabilitation by reducing the effects of disabilities and enhance potential.

This scheme also conducts corrective surgeries wherever required.
It was launched by the Department of Empowerment of Persons with Disabilities, which renders information and communication Eco-System Accessibility, Transportation System Accessibility, and builds an accessible environment.

According to the 2011 Census of India, about 2.21% of the population, which is approximately 26.8 million, suffers from a disability. This scheme aims to make at least 50% of government buildings disabled-friendly, 25% of the public transport, and make an atmosphere more inclusive for the people with disability and providing them various opportunities.
Now, the main question that is to be answered is what we can do as an individual for the betterment of differently-abled people?
We shouldn't assume that people with disabilities would always need help as they know how to manage their daily life problems. Therefore, we should comprehend their needs, learn about their requirements, and aid them.

Treat everyone equally as people often assume people with disabilities as different and often feels pity.

We can Volunteer in various organizations to assist people with disabilities by providing medical assistance, apt equipment and helping them to live more independently.
Conclusion
We should emphasize building a community for differently-abled individuals by forming friendly relationships with pure intent and understanding, which will assist in developing a connectivity bridge with them. It is crucial to establish bonds that permit the individuals to work with disabled individuals, thereby creating a sense of worth and belonging. The government is also trying its best to make the living of the people more satisfying and pleasant.
Resources: -
Submitted by Yash Verma