Nepotism only restricted to Bollywood industry?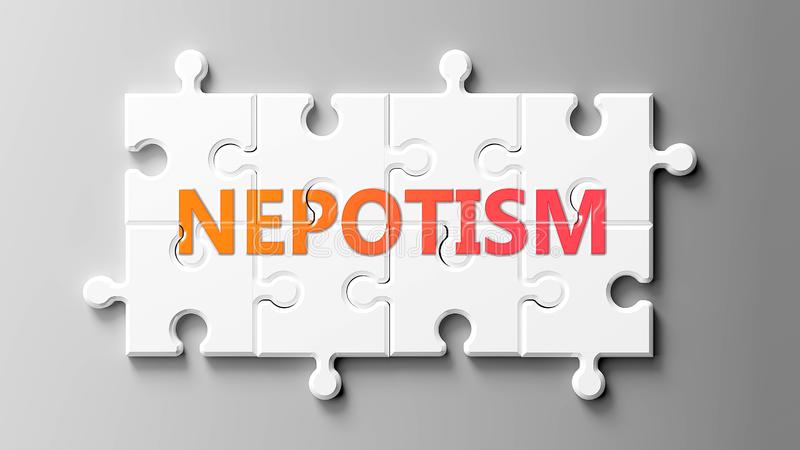 Recently the demise of talented Bollywood actor Sushant Singh Rajput, brought back the debate of nepotism in Bollywood. But then the question arises, "Is nepotism only restricted to the Bollywood industry?"
The term nepotism comes from an Italian word nepotism, which is based on Latin word root nepos meaning nephew. Back in time of renaissance, some ambitious popes who did not have any offspring, appointed their nephews to the positions of great power within the Catholic Church. And this tradition has been criticized since the ancient times where several philosophers like Aristotle, Vulluvar and Confucius condemned nepotism as both evil and unwise. Nepotists are everywhere. Not only in Bollywood, but nepotism or cronyism are being practiced in fields like politics, judiciary, business, sports, religion and some other activities too. It goes on in government and private jobs both.
Many members of Parliament or Legislative Assemblies promote or maintain a long generation of legacy of nepotist allocation of constituents to their relatives. The Supreme court and the High court use a non-transparent undemocratic appointment process called Collegium. They appoint by exercising casteism, nepotism and favoritism. And in some cases, various judicial service exams are also infamous for these practices. Allahabad High Court judge Rang Nath Pandey has written to Prime Minister Narendra Modi, alleging "nepotism, favoritism and casteism" in the appointment of judges to higher courts. He wrote, "In the last 34 years of my service as a judicial officer, I have seen people with no or poor knowledge of the law being appointed as judges," he wrote in Hindi, days before his retirement. The letter points out the collegium system of appointed judges, "The appointment of judges takes place behind closed doors and over cups of tea and favoritism is the only relevant factor for appointments." He extended his regression saying, "The whole process is secret and the names of judges are only disclosed after their appointments… who gets appointed on what basis is kept under wraps and this process of appointments is very unfortunate." In 2013, thousands of advocates broke their silence when the collegium of the Punjab and Haryana High Court comprising the Supreme Court judge AK Sikri and justices Jasbir Singh and SK Mittal had recommended the names of eight advocates to be promoted to the high court. The lawyers recommended for elevation were Manisha Gandhi (daughter former chief justice of India AS Gandhi), Girish Agnihotri (son of former justice MR Agnihotri), Vinod Ghai and BS Rana (former juniors of Justice SK Mittal), Gurminder Singh and Raj Karan Singh Brar (former juniors of Justice Jasbir Singh), Arun Palli (son of former justice PK Palli) and HS Sidhu (additional advocate-general in Punjab). The thousands of advocates sent a signed memorandum to the then President of India Pranab Mukherjee, the Prime Minister as well as the Chief Justice of India, raising serious questions on it. The letter also pointed out some serious deficiencies in the selections of some of the promote advocates. After this outrage, the supreme court rejected six of the eight recommendations. This case highlighted one of the most significant problems with the current method of judicial appointments which may be called as "Judicial Dynasties" or collegiums appointing relatives, friends, former colleagues and juniors in high postings.
Moreover, dynasties in politics also remain. In India, it has become a family business now where the father or mother is MP and their son or daughter are being promoted in the constituency as their heirloom. In every part of India, nepotism is kind of rampant in every political parties. In time of election, the candidates are being considered from the relatives of the leader or any MPs. In past ruling Congress party, run by the Nehru-Gandhi dynasty over the past six decades is being the role model for the Indian politics for promoting nepotism. And now this disease is deeply rooted in the body of politics. Rahul Gandhi knows how ridiculous this is. From an article, he told a group of students, "My father was in politics. My grandmother and great grandfather were in politics. So, it was easy for me to enter politics. This is a problem. I am a symptom of this problem." The British writer Patrick French, in his book "India: A Portrait", points out a fact about Indian system and he stated through some statistics that one hundred percent of the elected members in the lower house of Indian Parliament who are under the age of 30 are from families with a political background. He also said them "hereditary MPs". Sixty-five percent of members in the 31-40 age group are from political families.
Even sports can't get rid of nepotistic society. In Indian Cricket Team there are so many examples where former player promoting their son. Rohan Gavaskar who is a son of famous cricket player Sunil Gavaskar, wasn't even a shade of his father used to be. He played for the Bengal team, then represented India and Kolkata Knight Riders in the IPL, played 11ODIs and 10T20s and then he was lost. Later he started commentating in cricket. Stuart Binny, son of famous WC winning team of 1983, Roger Binny, was selected for national team when his father was the member of selection committee. But most of his performances were not up to mark and eventually dropped from the national side. Another name, Mohammad Asaduddin, son of Mohammad Azharuddin, was selected for Goa Ranji team even though he is from Hyderabad and hasn't played professional cricket. His selection was questioned a lot that time. Many other fields in sports are also corrupted by this nepotism and favoritism also.
Nepotism in workplace refers to as an unfair procedure where family members or friends of the boss or manager are hired not purely for their skills, experience or knowledge. Unfairly hiring a relative is likely to create a hostile environment in the workplace. This will likely to decrease other employee's confidence in managerial authority and power. This kind of behavior is discouraging and can make employees question if giving their maximum effort to the company is even worth it or not. As a result, more promising employee may quit to seek more fulfilling job. Those in favour of nepotism might tender the argument that parents have lived the journey of struggle and now it's time for their kids to enjoy the position they have earned. Nepotism exists and it will but what should not exist is suffocating the dreams clouds of talent and courage. Its the people who have to elect between real talent and fake talent, eventually no one can survive in any occupation without their talent, skills or hard work. The pressure of performance doesn't discriminate among anyone.
An effective anti-nepotism policy can help employees to avoid the perception of favoritism. People can make sure all hiring, promotion, compensation and other employment decisions should be based on objective factors like an individual's qualifications, ability, knowledge, performance and skills. It's not a crime to give chance to your relatives but you should celebrate other's capabilities too. The nepotism is leading to the harm to the talents in the society. Outraged and depressed youth take wrong decisions and face mental illness. The nepotism is really important to be removed from society. But this is not something that can be cured by a law, it is needed to realize that we all need to shift our thinking from favourism to our relatives to favourism to the talent and skills. Along with equal opportunities, there must exist equal acceptance.
---
Garima Sharma
Well done sayantee............keep it up.
Sonakshi Sarkar
Awesome article.. So proud of you ♥️
Eshitva Singh
Really well written and so well raised the issue..great