SELF-CARE; Neither Selfish, Nor Expensive but Ignorance is more Costly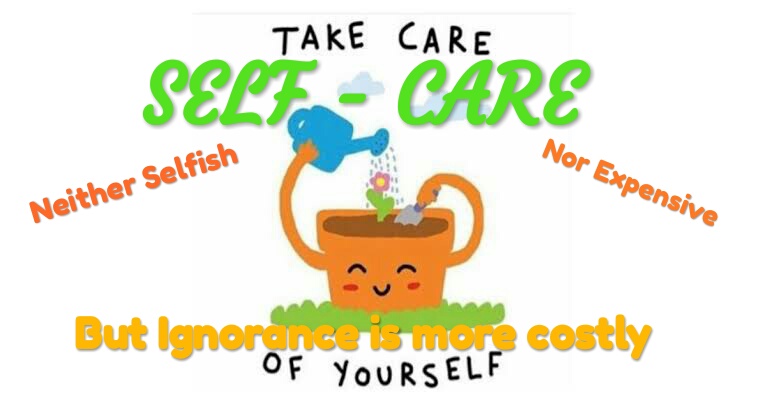 "There are days I drop words of comfort on myself like falling leaves and remember that it is enough to be taken care of myself"– Brian Andreas.
"Do you take care of the self" this is the question been asked very often and the answer was "yes of course" but, then when further asked in what ways you take care, the individual stuck and from here onwards the tricky part starts because self-care is not just about thinking ourselves, instead, it is any activity that an individual perform deliberately in order to take care of his mental, emotional and physical health. Although it is a very common and general topic but, being dropped by most of us, as we didn't give enough importance and when it comes to practice, this becomes really hard to accomplish it.
The problem faced by everyone is that our daily schedules are so packed that we don't have enough time to perform any activity. Another problem is that who wishes to take self-care have placed it in the last of the 'to-do list' and as there was already so much stuff to do, the last few options were been dropped and like this self-care couldn't be achieved.
The very first step should be to clarify some of the question marks (?) while doing anything this includes what I am doing? Why I am doing it? how I am doing it? Where and since when I am doing it, and so on. In other words, this is known as Mindfulness. It is the basic human ability to be fully present, aware of where we are and what we're doing, and not overly reactive or overwhelmed by what's going on around us. By practicing it, an individual will be able to notice an improvement in self-care routine and as a result, there will be an enhancement in the mood of an individual.
If you really want to reach further in self-care and wellness then at very first, an individual should incorporate some of these steps in his daily routine without adding anything in the routine.
• An individual should always enjoy the company of good ones and close ones.
• Exercise should be performed without any judgment like 'why I am not being able to perform this particular move".
• When eat your food, always taste your food, which means while having each bite, an individual should feel and experience it fully then, only it will be fully healthy for him.
• While traveling an individual should be happy and fully present wherever he is, at that time he should not make any complaints instead, an individual should enjoy those particular moments with the family.
• Listening to music is something which everyone has incorporated in their lives in some way or other so, while doing it an Individuals should listen and understand the meaning of each word carefully.
Now after accomplishing the first step that is mindfulness, the second step is to include the activities of self-care in our life and before discussing them lets discuss its importance.
Importance of self-care
Know your worth:
Self-care is important to lead a healthy life which further leads to a healthy relationship with self and others. It allows an individual to think that he is also very important in his own life which means that his likes, dislikes, etc. do matter in his life which brings positive feelings to him and indirectly his self-confidence and self-esteem shoot up. To understand that your life is more important than any problem, work and things so respect yourself for being so strong and trying to do well always.
A healthy work-life balance:
Workaholism is not a virtue, each one of us was so busy in our lives, doing overtime, completing assignments on weekends, no vacations and all these things together makes an individual less productive, disorganized, and emotionally disturbed. By practicing self-care activities like taking small breaks in between, taking proper lunch, etc. all the above-mentioned problems could be neglected. Work is to fill your pocket but your hobbies fill your soul so always take time for yourself, your hobbies. Don't chase the deadlines and regret if could not; try hard and if could not succeed, learn from mistakes and be grateful for what you tried and learnt.
Stress management:
Basically, there are two types of stresses namely, eustress and distress. Eustress is the positive stress that causes little anxiety which motivates us to accomplish a task before the deadline whereas distress is the negative one, and occurs when the stress is constant and continuous. This could be figured out by eating healthy, remaining in contact with loved ones, practicing medication, etc.
Start living, stop existing:
As already mentioned, that an individual should enjoy each and every moment in his life. He should understand the meaning and essence of every work been performed by him as a result of which he is being able to find out the consequences of it.
How to Practice self-care
Now, after discussing its importance let's have a look at the activities in which self-care could be achieved. There are three different areas for this.
1) Self-care ideas for the soul:
• Imagine you're your best friend – If you are facing to express anything to anyone and unable to do so then, simply look at the mirror and say it by imagining yourself in that particular scenario, after doing this you will feel relaxed.
• Choose who you spend your time with today - An individual has the right with whom he wants to spend his day. Once you have decided, please confirm that are you feeling enthusiastic and optimistic with that person or if not then he is not the right one for you.
• Get positive feedback - Select any three or four friends of yours and asked them about your good and bad qualities and try to figure out the bad ones and to maintain the good ones.
• Exercise signature strength - Try to find out your interest area and at anyhow try to spend some time doing it as it will refresh you completely. Try to spend your time in hobbies that make you feel good and let your soul feel free and delighted. Always remember anything you learn or can do is your strength because it makes you more flexible and adaptive.
2) Self-care ideas for body:
• Oxygenate by taking three deep breaths – Whenever an individual is facing stressful and anxious situations, he should take three deep breaths; by doing this, an individual feel better.
• Run for a few minutes – Exercise plays a very essential role in everyone's life. An individual should do it in order to maintain physical and mental health as well.
• Be still – You should usually make plans to go to parks and gardens and enjoy the peace of the greenery by sitting quietly.
• Have a good laugh – This is the most enjoyable activity and can be practiced by anyone either by reading comics, by watching comedy shows and the recent trend is of stand-ups. Try to feel grateful for what you have and smile for the wonderful life.
• Take a quick nap - Fifteen to twenty minutes can reduce the sleep dept of an individual and keeps him active for the action.
3) Self-care ideas for mind
• Start a compliment file – in this file an individual should write down the great things people have told about you and may read those later at times when you feel sad.
• Change up the way you make decisions – Decide something from your heart if, usually you take decisions from head and vice versa. By doing so you feel a novel way of decision making
• Go cloud watching – often tries to go to the terrace and simply led down on the floor by looking at the sky it will make you peaceful.
• Unplug for an hour – Switch everything to airplane mode and make yourself free from the notifications of the social media. And spend that one hour freely with your family or just squeeze some time from your busy schedule.
Consequences of Ignoring self-care
All these were the importance, advantages and activities of self-care. But, there are also some bad consequences of not practicing it. These are as follows:
• Low energy – After spending the whole day in working, by looking after home, office, kids, and other family members, as a result, you become so exhausted, irritated, and frustrated.
• Feeling hopeless – An individual starts feeling that there is no one who bothers about him. He feels that he made himself to engaged in such a life where he can't figure out some time for self then how will he be able to look after others properly.
• Physical problems – Due to stress, he starts facing problems like headaches, stomach aches, insomnia, body pain, etc. The mind plays big role and unsound mind gives rise to unhealthy body.
• Distancing in relationships – Due to the hectic schedule, he/she won't have enough time to spend with the family members due to which the relationships getting weak with children spouse and with the entire family. Not prioritizing people in your life for the work or happiness of others instead of yourself can make you lose those whom you love.
Steps were taken by the government
1) In today's scenario of COVID-19, ministry of AYUSH have suggested various self-care approaches to maintain and boost the immunity these are as follows:
• Drink warm water throughout the day
• Daily practice of Yogasana, Pranayama and Meditation for at least 30 minutes as per the guidelines.
• Spices like turmeric, coriander, cumin, and garlic are recommended in cooking.
• Laugh 15-20 times a day
• Eat healthy food and have your meals on time
• Drink a glass of turmeric milk every night before sleeping for sound sleep.
2) Department of Social and Health Services or dshs.wa.gov was a website developed by the government so, that they can provide their services to people and help them. People can ask their queries; they may take advice and understands the importance of self-care in one's life.
3) 21 June is celebrated as the International Yoga Day, and our Honourable Prime Minister Mr. Narendra Modi requests all the citizens to practice yoga and pranayama with the entire family and every year one city was been selected where the program took place, last year it was held in Kota, Rajasthan.
Our government is doing a fantastic job in this aspect; we should appreciate their efforts and try to incorporate self-care in our daily routines.
But practising self-care is our decision for ourselves. Keep yourself on priority. Make time for yourself, give time to your family, friends and talk to them to keep yourself happy. Do that makes you happy. Try adventures, sports, arts, dancing, songs etc. to keep yourself enjoying. Keep yourself healthy by eating food on time and giving yourself a healthy life. Remember Self-care is not selfish, it is for everyone around you as you can make others happy only when you are yourself happy. Practising self-care is not expensive, it only takes your concern for yourself but not practising self-care will cost you much more in terms of financial, physical, emotional and mental wealth.