STOP VIOLENCE AGAINST DOCTORS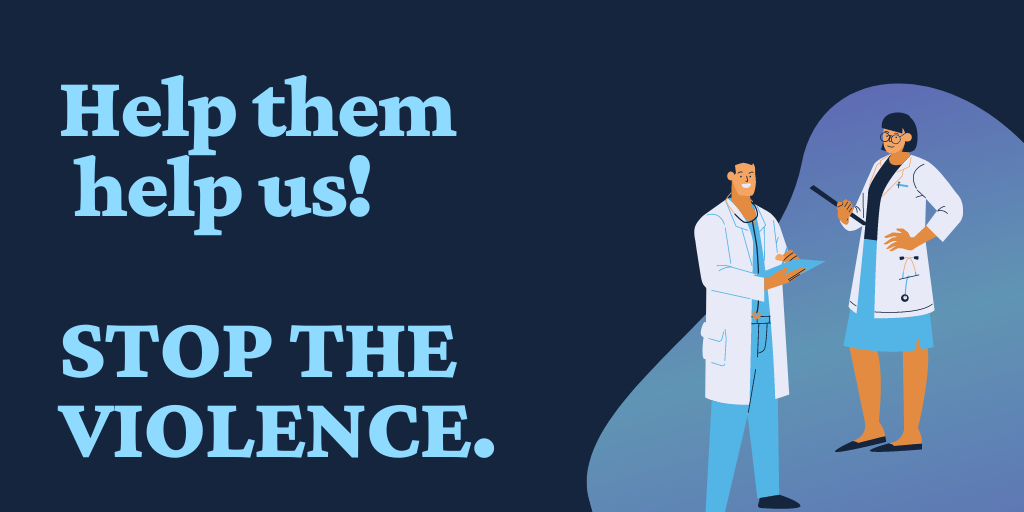 Abusing Doctors
Violence against doctors is a serious issue, not just in India but also in other countries like USA, Pakistan, China, etc. Cases of violence against doctors have increased manifold in the past few years in India.
According to the Indian Medical Association (IMA), about 75% of doctors have experienced violence that was either verbal or physical. Doctors are bound to their duties to save the life of their patients and they try their best to do that. But if after all these efforts of doctor, a patient is unable to survive, patients' relatives or society ends up blaming and abusing the doctors. Society thinks that doctors are greedy and they need to be punished for their mistakes. That's why the doctors are harassed, either mentally or physically.
For example, in India, if someone has a life threatening illness and their relatives have taken the person to any 'baba', the baba is not blamed if he fails to save the person.
A case had happened in June 2019 in NRSMCH, Kolkata where two junior doctors were assaulted by a patient's relatives during duty hours. These junior doctors got injured severely and one was even admitted in the ICU. Both the doctors suffered head injuries. Doctors from all over India protested and asked the government to provide security but the CM of West Bengal issued an ultimatum for the doctors to resume their work.
Some physicians and their families have also been ostracised by their neighbours because of their exposure to patients infected with Covid-19. India has reported more than 2,300 cases and at least 50 people have died.
One video that has gone viral, showed a mob throwing stones at two female doctors wearing personal protective equipment in the central city of Indore. The doctors had gone to a densely-populated area to check on a woman suspected of having Covid-19 when they came under attack. The doctors had to run away from that area.
In apartment buildings or neighbourhoods where cases have been found, the crisis is getting even more severe. Residents have been prohibited from leaving their homes and are subjected to continuous surveillance through CCTV cameras, drones, and police. The doctors are being asked to vacate their houses due to COVID – 19. They are also facing lots of mental abuse in such cases.
Reasons Behind Unfair treatment of Doctors
Some people have the misconception all doctors just try to mint more and more money.
Other people indulge violence impulsively; that react immediately without understanding the situation.
Some persons intentionally give threats to doctors for not doing their work or for not being able to save their patient.
Violence against doctors or other medical fraternity hardly made any news ever. There was barely any discussion about this in Indian medical journals previously. In majority of the cases (60-70%), such violence took the form of either verbal abuse or aggressive gestures. Very often, those who abused a medical person were patients themselves, who were either under the influence of alcohol and drug, or were delirious. Increased risk of violence was also recorded when a general physician was on house calls, particularly at night.
Causes of Stress amongst Doctors
Doctors do not have many holidays. Many of them even work at different places and not necessarily in their hometowns. So, they cannot go back home for every holiday. They even work on festivals like Diwali and Holi due to emergency situations.
They do get frustrated sometimes but cannot do much about it. They are very prone to depression and anxiety.
Some people abuse or curse the doctors for not treating them first, even if the former is not an emergency case.
Apart from hospitals, junior residents and medical students have to concentrate on their academics as well. They have to juggle between academic studies and clinical practice.
Abusing and Its Consequences
Due to such behaviour of the society towards doctors, the latter can go into severe mental stress and even lose their self-confidence.
Doctors will feel scared and not be able to treat the patient confidently.
If this continues to happen, then the ratio of young doctors taking up the medical profession will decline significantly. This will in turn have a bad effect on the society.
Limited medical facilities and low count of doctors can lead to decrease in our country's overall health. India would not be able to fight against the severe epidemics and pandemics like covid-19.
How to Help It Out
The most important solution is that society needs to understand that doctors are humans and should not be treated like this. Awareness should be created about the consequences of such actions on the society itself.
A relationship of trust and faith relationship should be built between patients and doctors.
Government should make a law specifically for the protection of doctors. The person causing violence to a doctor and/or his/her property, will be liable to pay compensation and would go to jail for a certain time period.