1ST National Legal Online Essay Writing Competition Organized by Law Mantra: Register by15th June,2020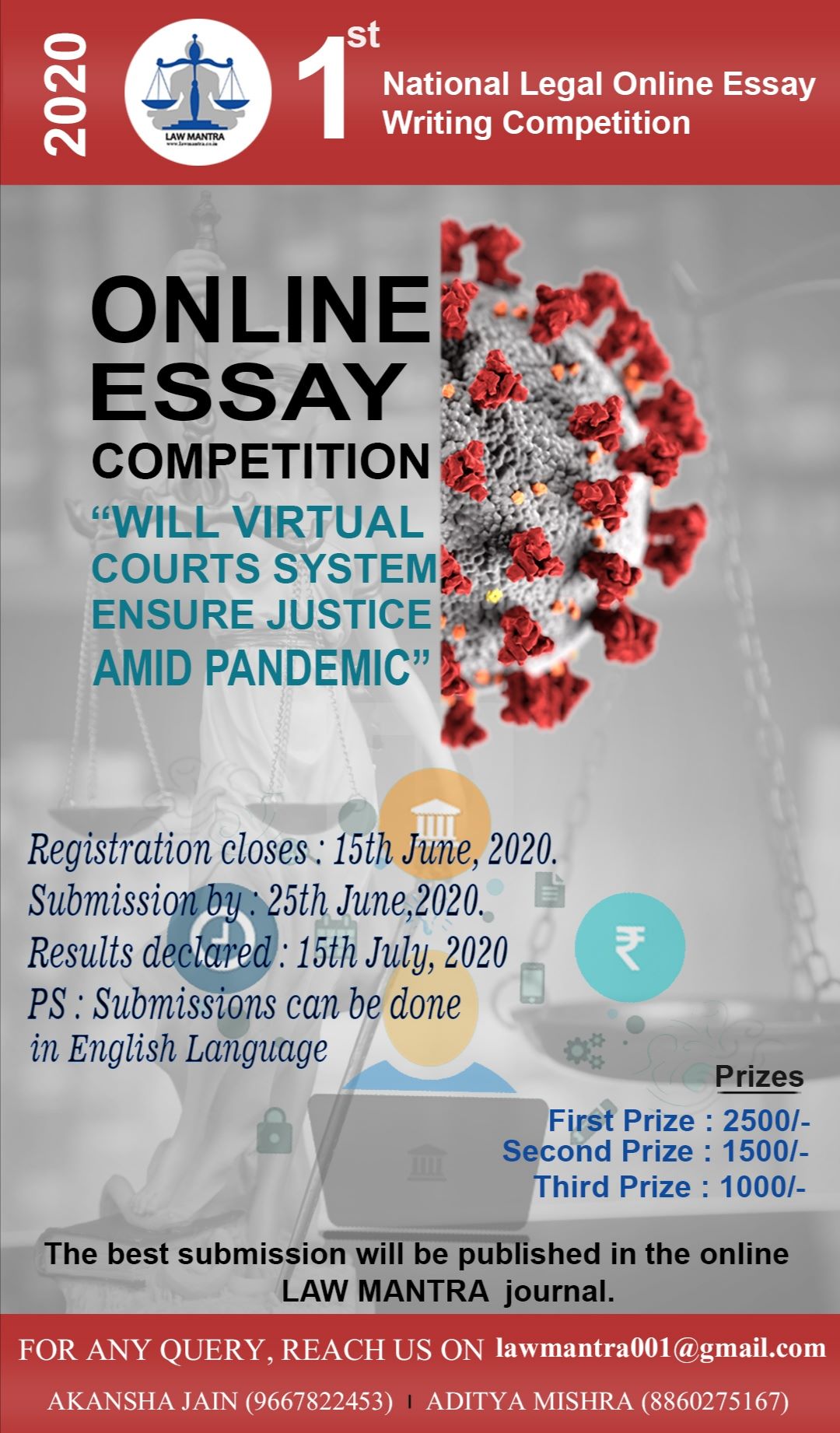 About the Organisation Law Mantra is a registered charitable trust with the Government of India under the India Trusts Act 1882 (Registration No 150 in Book No.4 Vol No 3, 603 of 2018). Law Mantra is exempted under Section 80 G and 12A. For corporate donations, partnering with Law Mantra qualifies under Schedule VII, Item 2, of the Companies Act, 2013. It can, therefore, be a part of the corporate social responsibility initiatives of commercial enterprises. "Law Mantra" (headquarters New Delhi) is a body of Jurists, Advocates, Academicians and Students running for the purpose of enhancing legal academics and legal awareness in the society and in the practice of the same. We at Law Mantra enable people to take responsibility for the situation of the deprived Indian women and children and so motivate them to seek resolution through individual and collective action thereby enabling women and children to realize their full potential.
About the Competition/Event/Opportunity The COVID-19 pandemic has had a significant impact on the legal fraternity of India. Following the imposition of the months Coronavirus lockdown, starting with the Supreme Court, many High Courts and subordinate courts have suspended work for the weeks or have notified minimal sitting. Therefore, under the prevailing circumstances of social-distancing and minimizing physical contact, the key consideration is how can the judicial system still operate effectively and ensure timely delivery of justice? In light of this, this online essay competition provides an opportunity for the authors to critically think about the issues. The best submissions would also be considers for the publication in the online journal of law mantra. All the submissions should be made in a word document via an email to [email protected] with the subject "Submission : Online Essay Writing Competition on WILL VIRTUAL COURTS SYSTEM ENSURE JUSTICE AMID PANDEMIC ? "
Eligibility/Prerequisites Any student of law, enrolled in an undergraduate, graduate or doctoral programme in any law school or legal professional training school worldwide, at the time of submission of the entry, shall be considered eligible.
Important Dates Deadline for registration: 15th June, 2020 Deadline for submission: 25th June , 2020 Declaration of result : 15th July,2020
Registration Process The registration fee shall be 250/-(Two Hundred Fifty Only). The participants have to pay the registration fee via paytm on Paytm No:+91- 9667822453 After Payment of Registration fee, participants need to fill the particulars in THIS GOOGLE FORM. Filling details regarding payment in the Google Form is mandatory. (Note: Amount Collected form 1stNational Legal Online Essay Writing Competition will be utilized for COVID-19 Social Service Activities)
Benefits/Prizes/Perks 1st Rank: Cash Prize of Rs. 2500/- 2nd Rank: Cash Prize of Rs. 1500/- 3rd Rank: Cash Prize of Rs. 1000/- E-certificate for participation will be provided to all the Participants.
Other Details How to Submit? All submissions must be sent to [email protected] All submissions must be the original work of the author and represent significant contribution. A cover page with the name of the author, their associations, and their contact coordinates should be included. Participant must send in their submissions before 11:59 P.M on the 25th June, 2020 Any articles received after the deadline shall not be given any consideration. Guidelines for Submission: The title of the essay should be followed by Name, Designation, Name of the Organization / University / Institution and Email address. It is mandatory to mention Email address, as all future correspondence will be through it; Name and details of Co-author, if any. The essay should be typed in MS WORD format ( preferably 2007or 2010). The essay must be in single column layout with margins justified on both sides. The sub heading should be in font size12, bold and Times New
Roman, left aligned. The main text should be in font size 12, Normal, Times New 
Roman, 1.5 spacing and Justified. The length of essay should not exceed 2,500 words (excluding footnotes).Exceeding the word limit may lead to rejection of papers. All references must be in the form of footnotes with font size 10 and should be ILI Style.
Contact details for more informationFor any query write us on [email protected] contact us during 10:00 A.M. – 5:00 P.M Akansha Jain (Joint Secretary of Law Mantra): +91- 9667822453 Website: lawmantra.org