National Article Writing Competition by Uttaranchal University: Register by June 20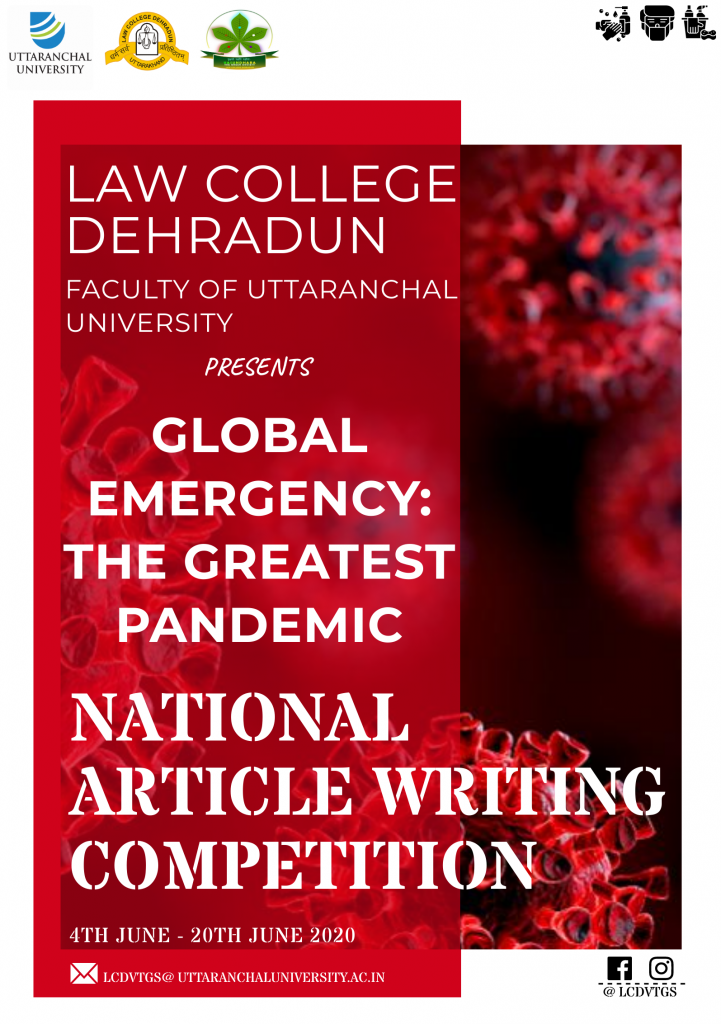 About the Organisation Vaundhara- The Green Society, Law College Dehradun, faculty of Uttaranchal University, reaches out to bring intellectual minds and so, presents NATIONAL ARTICLE WRITING COMPETITION on "GLOBAL EMERGENCY: THE GREATEST PANDEMIC".
About the Competition/Event/Opportunity Law College Dehradun, Faculty of Uttaranchal University is organizing National Article Writing Competition on the Topic: Global Emergency: The Greatest Pandemic, wherein the submissions are invited from students/research scholars from all across the country.
Eligibility/Prerequisites Students/Research Scholars enrolled in any UG/PG/PhD course associated with any recognized educational institution (University/College).
Important Dates Register yourself by June 20
Registration Process Registration Fee The registration fee will be as per follows: Participants from Law College Dehradun: Rs. 150/- All other participants, for: Single author: Rs. 200/- Co-authored: Rs. 250/- Mode of Payment Participants may submit their registration fee through any of the following means: Google Pay: 9149379083 PhonePe: 8859999638 Note: Screenshot of successful payment (containing date, time and reference/transaction number of payment) has to be uploaded in the registration form. Submission Guidelines Word Limit: 1500-2000 words Language of Submission: English Co-authorship: An article can be co-authored by a maximum of two participants. Mode of Submission All the submissions shall be typed and submitted only in Doc/Docx format. No other submissions shall be entertained. The soft copy of the article shall be sent at lcdvtgs[at]uttaranchaluniversity.ac.in. The e-mail must include all the details along with the declaration in accordance with the instructions given in the brochure (link provided below). Submission Deadline: 28th June 2020
Benefits/Prizes/Perks 1st Position: Rs. 1,100/- 2nd Position: Rs. 800/- 3rd Position: Rs. 500/-
Other Details The declaration form is here.. https://drive.google.com/file/d/1oUbMfVoJPEDl6eI2CCugbRsN-mOFMDH3/view All the participants are required to register themselves through this link. https://docs.google.com/forms/d/e/1FAIpQLSebqX2yE82EzbBfNKRn0IIOxvJzABuhmHhiblhuXc7hUYJ61w/viewform
Contact details for more informationE-mail ID: lcdvtgs[at]uttaranchaluniversity.ac.in