ONLINE VALUE ADDED COURSE ON GENDER, LAW AND SOCIETY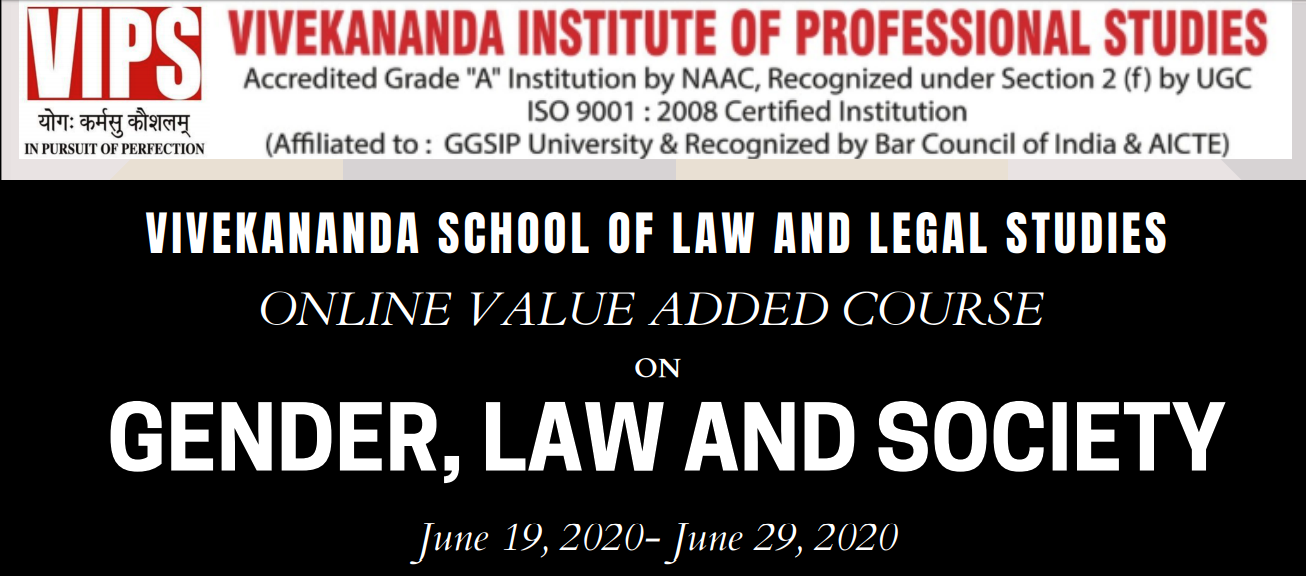 About the Organisation
Vivekananda School of Law and Legal Studies (VSLLS) of Vivekananda Institute of Professional Studies (VIPS) is committed to realizing the words of Swami Vivekananda: "Man Making, Character Building and Nation Building ". Vivekananda Institute of Professional Studies is affiliated to Guru Gobind Indraprastha University, recognized by Bar Council of India and UGC under section 2(f), with NAAC accreditation, is well known for its robust efforts in legal education.
Dr. S.C. Vats, Chairman, VIPS, a great philanthropist and educationist believes in perfection. Thus, the motto of VIPS is "in pursuit of perfection ". With his broad vision and guidance, since the inception of VIPS, in the year 2000, it has produced nineteen gold medallists, twenty plus judicial officers along with lawyers placed with highly reputed industries, law firms, and senior advocates as also government and non-government establishments. Currently, the Law School of VIPS is running the programs B.A.LL.B., B.B.A.LL.B., and LL.M. in its own hitech, Wi-Fi enabled campus in Delhi. Students with higher rank in CET conducted by GGSIP University are preferring admission in VIPS.
Many alumni of VIPS are pursuing higher studies from prestigious institutions including Ivy League colleges of the world and a few have also cleared Bar Examinations of USA andCanada. VSLLS has collaborated with the University of New Hampshire- Franklin Pierce Centre, Concord, United States, regarding the scholarship to pass out students of Law for Higher Studies and the exposure to students at the national and International level.
About the Competition/Event/Opportunity
COURSE TOPICS
Domestic Violence in light of Covid-19 pandemic Patriarchy and its Persistence in the current Global Scenario Masculinity: Theory & Practice Seeing Rights through a Gendered lens: In search for Equality Negotiating Spaces within Politics: Women, Power and Pandemic Women and Property Rights: A Look at Hindu Succession (Amendment) Act & its loopholes Understanding the Concept of Gender Neutrality – Special Emphasis on Rape & POCSO Section 377- Recognition without Rights The status of Ganikas in Ancient India in reference to Arthshastra Bringing Gender in the Loop: Conversations between Law & Policy Women, Profession & Challenges Gender at the Crossroads of Customary Laws and the Community
Eligibility/Prerequisites
Applications are for professionals, research scholars, students of law and social sciences.
Important Dates
REGISTER LATEST BY 17th JUNE 2020
Registration Process
MODE OF SESSIONS A series of lectures by Academicians and Professionals from across disciplines.
You will further your knowledge through the lecture series and readings in your own time. The sessions will be conducted through the platform of ZOOM APP. REGISTERATION DETAILS
COURSE FEE: Rs.300
BANK DETAILS NAME OF BENEFICIARY: Vivekananda Institute of Professional Studies Law School NAME OF BANK: Axis Bank Limited. ACCOUNT NUMBER: 912010050002859. BRANCH : Lok Vihar. IFSC/NEFT Code: UTIB0000588 (Kindly mention applicant's name and VIPSGLS in description, while making payment)
Benefits/Prizes/Perks
ASSESSMENT & CERTIFICATION The attendees will be assessed through an online test after each session. E- Cerificates will be provided to applicants after successful completion of assignments that will be allotted to them based on the discussions undertaken in the Value added course.
Other Details
REGISTERATION LINK – https://docs.google.com/forms/d/e/1FAIpQLSeH2_l_sBRm5iNXcru0z36DRajMHFkmSwDs_EGGglse3t1PVg/viewform
Contact details for more information
For queries Contact us on [email protected]
Sarthak Bhardwaj (9718119042)
Shweta Shukla (8800431832)