Webinar on Corporate Governance: An idealist notion or need of the day I 28th June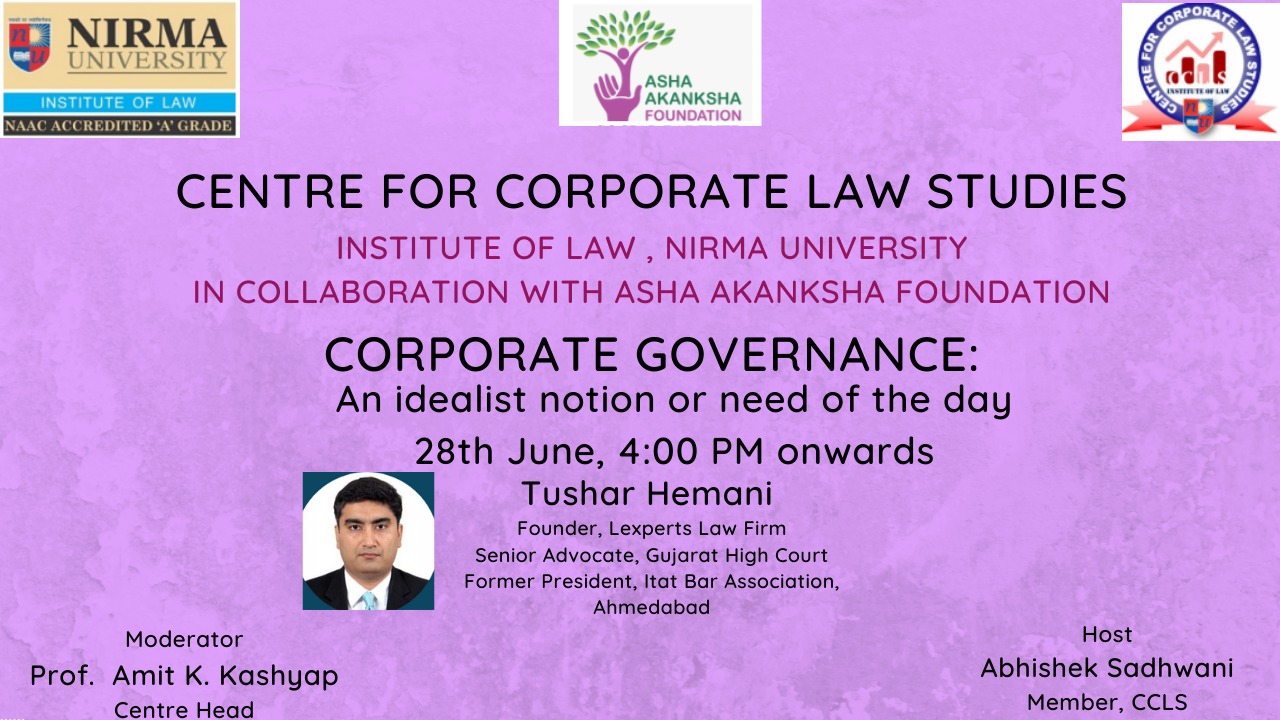 About the Organisation
The Centre for Corporate Law Studies is an initiative of ILNU aimed at institutionalizing and channelizing research on corporate and business related aspects that take place nationally as well as globally. The Centre looks to give a necessary impetus by inculcating an outlook amongst those future corporate professionals to question the various aspects of business and its interplay with society. Asha Akanksha Foundation undertake and promote research on corporate laws & attract students of the highest caliber to the Law School's programs and provide opportunities for their involvement in corporate law research projects. Centre for Corporate Law Studies is an initiative of ILNU in collaboration with Asha Akanksha Foundation to develop and promote links with academics in universities in India and in other countries who specialize in corporate law.
About the Competition/Event/Opportunity
A company which applies the core principles of good corporate governance; fairness, accountability, responsibility and transparency, will usually outperform other companies and will be able to attract investors, whose support can help to finance further growth. Governance structures and principles identify the distribution of rights and responsibilities among different participants in the corporation (such as the board of directors, managers, shareholders, creditors, auditors, regulators, and other stakeholders) and include the rules and procedures for making decisions. The session is organised to develop and promote innovative curriculum, teaching methods and teaching materials in this field.
Eligibility/Prerequisites
Law or Business students/ Professions/ Researchers
Important Dates
28th June, 4-5 pm
Registration Process
Register Here: https://docs.google.com/forms/d/1b8tfv8DCQJ9sQA9oIgt2FiQGEMVlVDG_K1syBabNF58/viewform?edit_requested=true
Benefits/Prizes/Perks
Gaining Knowledge and Lifetime experience
Other Details
Tushar Pramod Hemani successfully argued complex matters relating to Direct and Indirect Taxation, Corporate, Commercial and Fiscal laws before Hon'ble Supreme Court, High Courts, various Tribunals, Commissions & Appellate Commissioners. He is one of the youngest at Bar to have been conferred Senior Designation by the Gujarat High Court in 2019. Also, President of Income Tax Appellate Tribunal Bar Association, Ahmedabad for the term 2015-2017. A regular speaker at various conferences, seminars and meetings of varied professional bodies on diverse issues in the field of Taxation and Corporate Laws. A regular writer of columns, articles and papers for professional journals and conferences
Contact details for more information
Varun Akar, 72260 60459