Action Plan 2K20-21.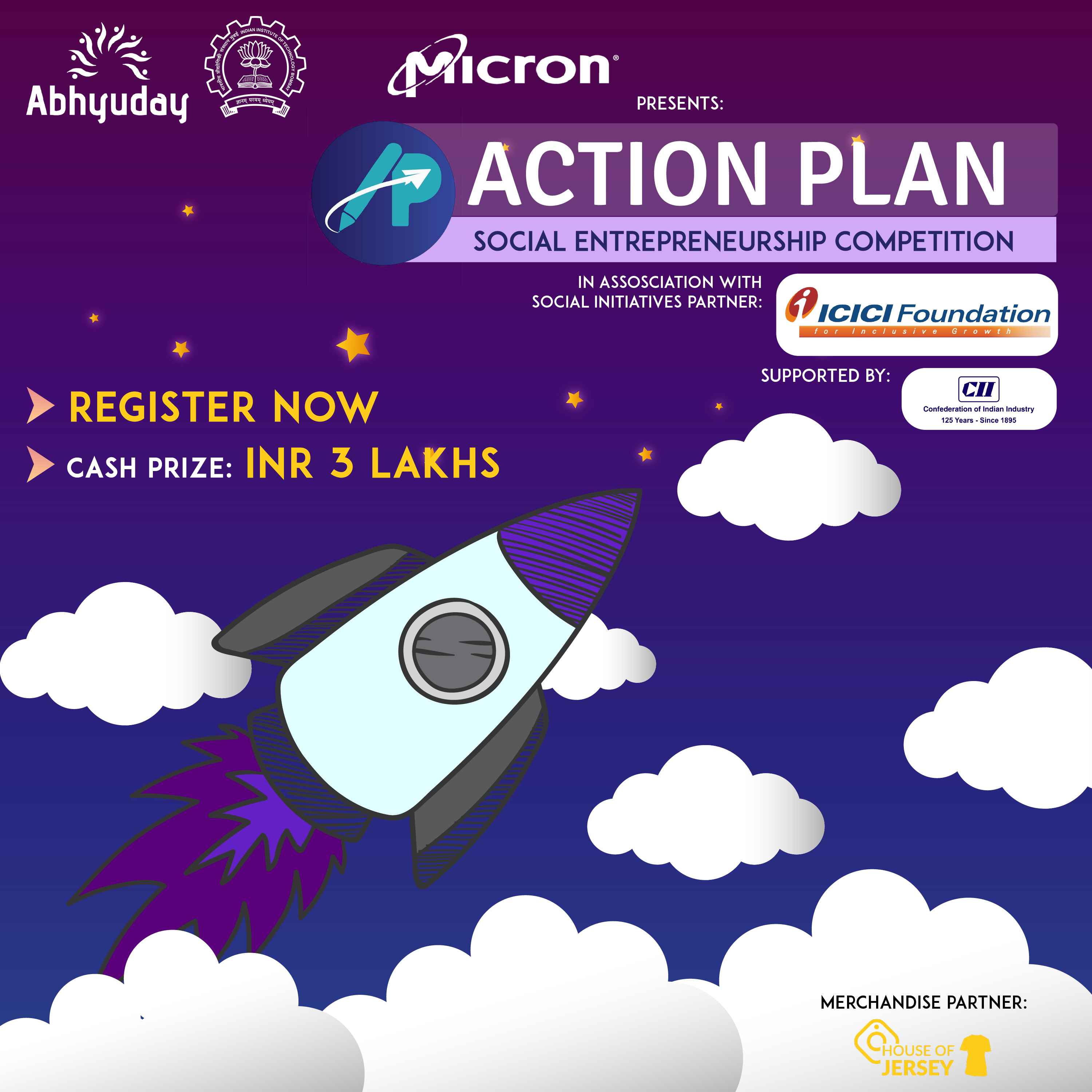 About the Organisation
Abhyuday, started in 2014, with a group of socially inclined students who felt the need for a body, which provides opportunities to the students of the institute who wish to work for a better society. With a vision to channelize the youth towards India's social challenges, Abhyuday has established itself as one of the country's largest student run social body in the mere span of 4 years. Our flagship being campaigns, we also conduct year long events like conferences, donation drives, exhibitions and provide social fellowship, internship opportunities to the students of the institute. The 'Social Fest' usually held in January is a two day extravaganza that celebrates the spirit of social good.
About the Competition/Event/Opportunity
We believe that young minds hold the key to solve numerous challenges that have plagued our society for so long. It's the need of time to channelize this energy in the right direction which can definitely change the lives of people around us. Abhyuday 2020-21 brings to you, Action-Plan, the social entrepreneurship contest which revolves around the 3I's mantra: Ideate - Innovate - Implement. In order to fulfil these dreams, Abhyuday IIT Bombay brings together the brightest from colleges, the best from corporate, the learnt from academia and the experienced from NGOs and creates a platform where young minds are nurtured to create solutions that have the potential to bring about grass root level changes.
Eligibility/Prerequisites
There is no age restriction on any individual to participate. Anyone, from students to working professionals across the nation, can participate.
Any startup incorporated before 3 years of the conclusion i.e. before January 2018 will not be allowed to participate. You will be required to submit proof of the same during the competition process.
Action Plan aims to promote startups that require assistance in funding, mentoring, etc. Therefore startups who have raised external funding i.e. funding from angel investors, venture capitalists, etc. cannot participate.
Important Dates
Register Now!!
Registration Process
https://www.abhyudayiitb.org/actionplan/forms.html
Benefits/Prizes/Perks
Pre-incubation, Cash Prize, Internships at ICICI Foundation, Mentorship and much more....
Other Details
Sectors -
5RS (REDUCE, REUSE, RECYCLE, RECOVER, REFUSE)
Sanitation, models to reuse, reduce, recycle and recover waste, technology and digital innovations to substitute manual scavenging and reducing the impact of climate change
HEALTH
Seeking Start-Ups tackling malnutrition, providing digital platforms for availing health services, hygiene and sanitation.
WOMEN EMPOWERMENT
Encouraging startups providing regional rights and facilities, security and protection, employment and employability to women, to register under this sector
POLLUTION
"Introducing this sector to come up with technologies that aid people in fighting pollution for the time needed to shift to clean energy fuels" and to improve the existing condition.
EDUCATION
Startups aiming at improving the quality of primary education, creating or prototyping Learning Management Systems (LMS), practical learning aspect of secondary education and enhancing vocational education and other digital innovations.
FINANCTIAL INCLUSION
"It is making financial services available to each and everyone, via digital payments, micro-lending, peer to peer lending, etc." This will include startups aiming at developing policies for financially weak people.
SUSTAINABLE ENERGY
Maintaining, or generating energy from cleaner fuels, improving existing solutions, developing sustainable methods and educating people on the same.
AGRICULTURE
70 percent of India's rural households still primarily depend on agriculture. Thus, we need startups that can aid this large mass of our population.
WATER MANAGEMENT
According to a recent report of NITI aayog, "21 of the major Indian cities will run out of water by 2020. Thus, this sector will focus on ways to provide and supply clean drinking water."
EMPLOYIBILITY
Our country is facing problems regarding Employability.This sector is for startups that can act as an employment source in rural areas, or for less-educated people.
Rules - A team can register with minimum two and maximum eight members including the Team Leader.
Team leader will be point of contact for any correspondence for team. Team should use their team leader email address for future correspondence.
Team must abide by timely instructions, guidelines and ethics provided by Abhyuday with general business ethics.
Additionally the plan should solve a critical social problem in an innovative as well as transformational manner. It should have some quantifiable social return. Further entries eligible for incubation opportunities should abide by the eligibility of that particular company.
Note: Teams may be asked to provide proof of the above at any time during the competition cycle and in the eventuality of wrong details/information your entry shall be disqualified. By registering for Action plan, Abhyuday expressly disclaims any obligation or undertaking to update or revise any forward-looking statements, targets, estimates or any related information contained in this concept note to reflect any change in events, conditions, assumptions or circumstances on which any such statements are based unless so required by applicable law. Furthermore, by participating in Action Plan, each participating team and all of its team members agree to allow Abhyuday, IIT Bombay to use their names, images and information regarding the team's action plan, any other material forwarded as part of their submission, and prize information in publicity and marketing for the same.
Contact details for more information