Call for Chapters: GNLU's Book on Digitalization and Law: Submit by June 15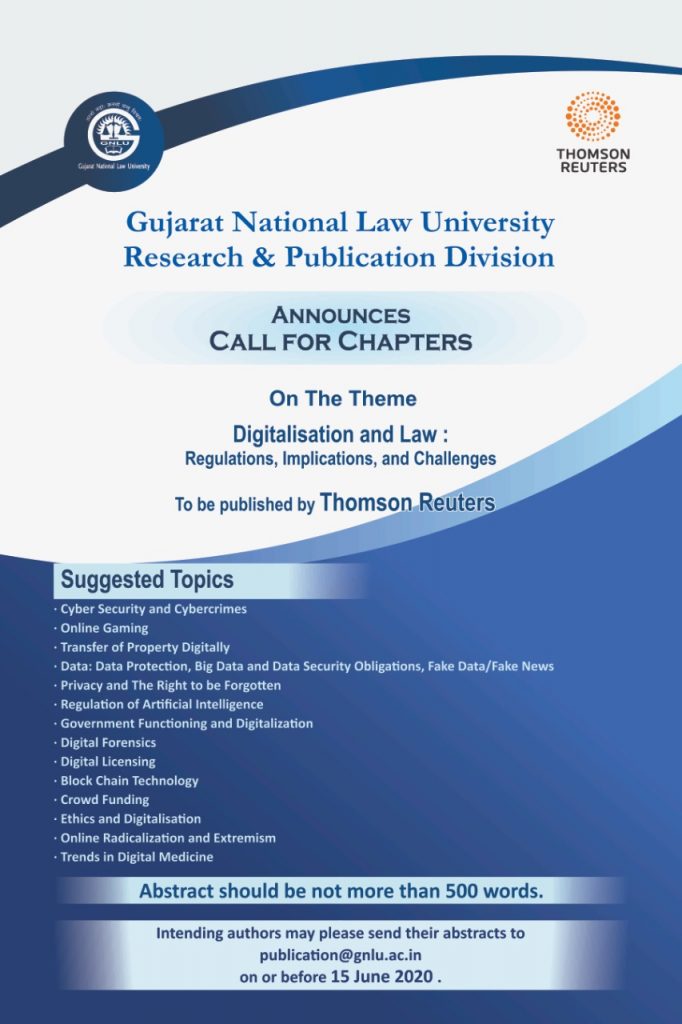 About the Organisation The Gujarat National Law University is a public law school and a National Law University established under the Gujarat National Law University Act, 2003 in the state of Gujarat. The university is located at Gandhinagar, which is the capital of Gujarat and is located 23 kilometres north of the city of Ahmedabad.
About the Competition/Event/Opportunity Introduction The amplified access to the internet in recent times purposes as a platform for communicating, storing, drawing and transferring information online. It serves as a medium for development and crime simultaneously. It fastens and smoothens the process of ticket booking on one hand while surfaces as the platform for payment fraudulent activities on the other. Although, governments have regulated the arena of the Internet services in terms of security, the ongoing innovations in the online world is challenging the individual and national security at the humongous level. The research will try to explore the variant colours of digital data. This book will study the legal issues, regulations and their implications around digital data such as privacy policies, defamation and cyberbullying. The chapters will specifically explore the legal implications of advanced technologies in recent times such as blockchain and medicine. Objective The data floating in the virtual world is directly connected to privacy and security measures of an individual, community, society, government and state. Understanding the legal implications is important to understand in and out of the new advances such as Artificial Intelligence (AI). Therefore, this project will contribute in better understanding of law and the internet in special reference to the new advancements. This book will study and deliberate a broad range of topics involving various threads of digital data and law. The sub-themes of this publication will back the research on the contemporary status and role of digital data.
Eligibility/Prerequisites The target audience of this book will be academicians, researchers, policymakers, lawyers, librarians, practitioners, research scholars, IT professionals, intellectuals and students.
Important Dates Abstract Submission Deadline: June 15, 2020 Full Chapters Submission Deadline: July 31, 2020
Registration Process Submission Procedure: Abstracts should be submitted to publication[at]gnlu.ac.in. The authors of the selected abstracts will be intimated by June 20, 2020. They should submit the full chapters by July 31, 2020. Manuscripts will go through a double-blind peer review editorial process. Co-authorship should be limited to two. The abstract should be between 300-500 words. Note: There are no submission or acceptance fees for manuscripts.
Benefits/Prizes/Perks Great thing to learn !!
Contact details for more informationE-mail ID: publication[at]gnlu.ac.in