Call for Papers: HPNLU Green Gazette [Vol 1, Issue 1] HPNLU, Shimla: Submit by July 10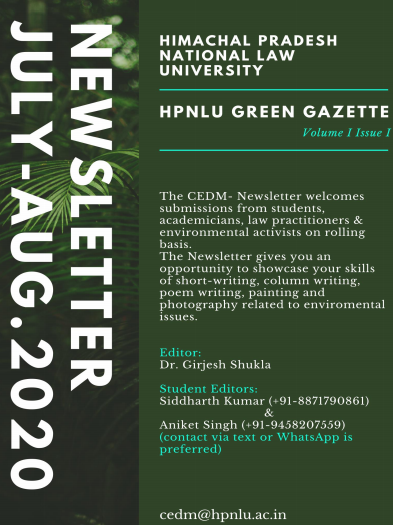 About the Organisation
The Himachal Pradesh National Law University (HPNLU, Shimla), was established by the State Government in the year 2016, by an Act of the Legislature (Act 16 of 2016). The University started functioning from 5th of October, 2016. The institution has attracted excellent set of teachers from all over India. The University is committed to provide inter disciplinary and practical/application based legal education keeping in view the requirements of overall developments of its students.
About the Competition/Event/Opportunity
About the newsletter
The Centre for Environment and Disaster Management newsletter "HPNLU GREEN GAZETTE" endeavors to create a space which fosters independent academic thought, inculcate a culture of research and ignite conversations on matters of environmental jurisprudence and environmental values. With the object of furthering discussion on environmental jurisprudence and values, the CEDM- Newsletter welcomes submissions from students, academicians, law practitioners & every environmental cause enthusiast on rolling basis.
Theme
Any work that is related to environmental cause and environmental jurisprudence.
Eligibility/Prerequisites
Guidelines
The entries (short-articles, columns, poems, paintings & photographs) must be the original work of the author(s) and must not have been sent for consideration at any other place for presentation or publication. The work should not be plagiarized.
Co-authorship up to two authors is allowed for the articles.
The short-articles/columns/poems must be submitted in an MS-Word document and painting/photographs must be submitted in .jpg/.png form.
The article must include a brief description of the author.
The authors shall receive an acknowledgement email on the receipt of the article by the Editorial Board.
The copyright of the articles shall automatically transfer to CEDM-HPNLU, Shimla editorial board.
In relation to all the disputes, the decision of the editorial board shall be final and binding.
Important Dates
Last date for submissions
July 10, 2020.
Entries received after the above mentioned date will be considered for next issue.
Registration Process
How to submit
All the entries must be submitted through mail at [email protected] with the subject as :Submission to The Green Report/The Green Clause/ The Green Column/ The Green Rhyme/ The Green Challenge.
Each entry must be accompanied by a cover letter having the following particulars:
Author(s)' name
Name of the institution
Type of the submission (refer to the above five mentioned sections )
Email address
Contact number
A declaration of originality
Benefits/Prizes/Perks
Certification
All the selected contributors will be provided with a certificate of publication and appreciation letter by The Himachal Pradesh National Law University, Shimla.
Other Details
https://www.hpnlu.ac.in/PDF/f1595abc-a36a-45cc-8ffa-a55c631f3a58.pdf for more details
Contact details for more information
Contact details
Email: [email protected]
ANIKET SINGH, +91-9458207559 (Student Editor)
SIDDHARTH KUMAR, +91-8871790861 (Student Editor)