Cultural Evening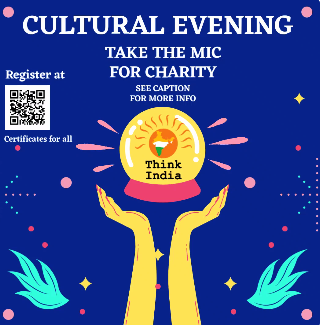 About the Organisation
Greetings of the day* ,
Bored in this lockdown, want to showcase your talent? Think India has come up with an exciting opportunity ,On 2nd of October Think India is going to host its first ever Cultural Night on its E platform.
About the Competition/Event/Opportunity
All the proceeds of the event would be donated to "Bharat ke Veer Organization". Participants are required to upload a video showcasing their talent on the given registration link for the initial selection rounds.
Eligibility/Prerequisites
Details are mentioned below -
1)Date - 2nd October 2020
2)Time -8:00 PM- 11PM
3)Platform - Cisco WebEx
4)Registation Fees - INR 50/-
Important Dates
Date - 2nd October 2020
Time -8:00 PM- 11 PM
Registration Process
Registration Link- tinyurl.com/TICultural-Evening
Benefits/Prizes/Perks
Certificates for all participants
Other Details
Categories -
1) Singing
2) Stand Up Comedy
3) Poem/Recitation
Detailed Guidelines-
https://tinyurl.com/CulturalGuidelines
Contact details for more information
For Further Information Contact-
Muskan - +91 72104 63836
Kanika. - +91 98715 14110
Shivani. - +91 93045 17577