E-Conference on Role of HR & Organizational Behaviour for Business Sustainability by IPEM Ghaziabad [Feb 27]: Submit by Nov 30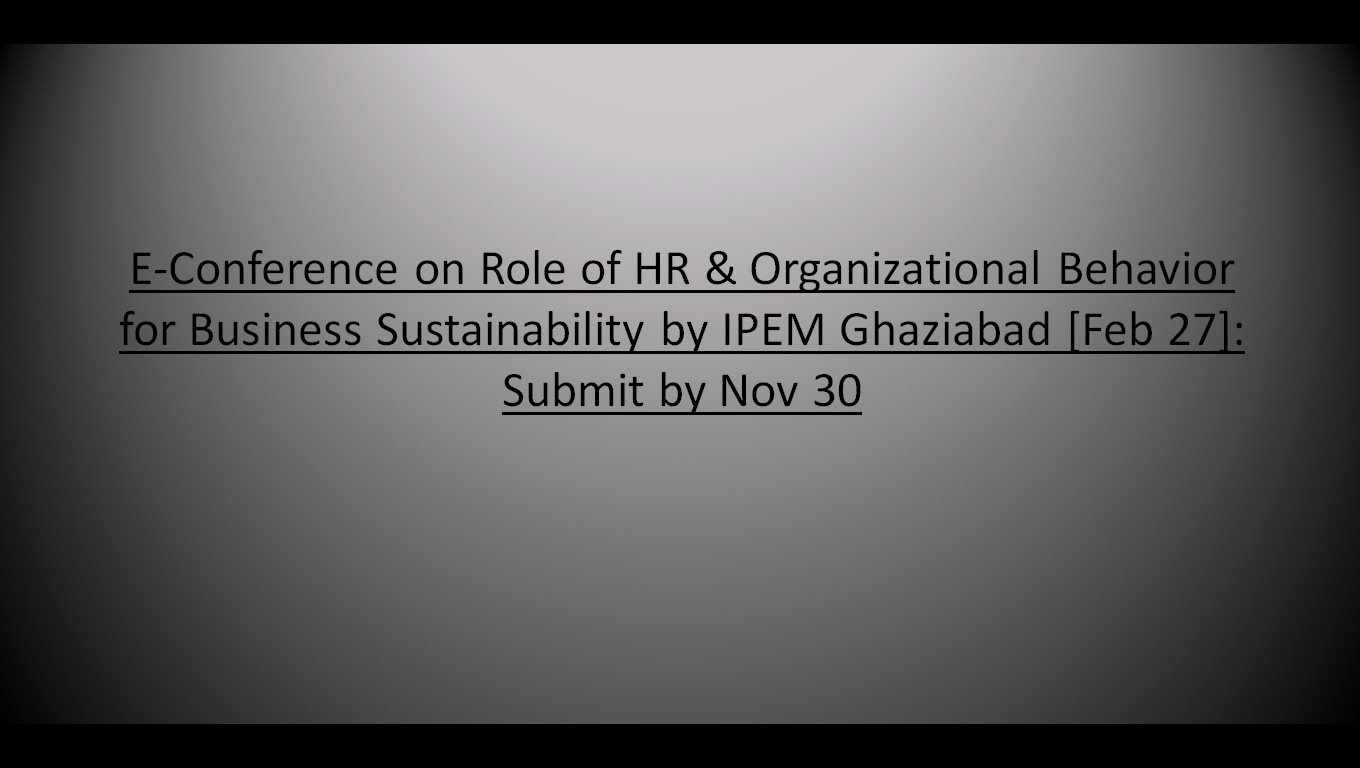 About the Organisation
The Institute of Professional Excellence & Management (IPEM), Ghaziabad- Established in 1996, conducts various Programmes in Management (MBA, BBA & B COM), Information Technology (MCA & BCA), Law (BA LLB & LLB) and Education (B Ed & Diploma in Elementary Education) since its inception with the Approval of the All India Council for Technical Education (AICTE), Bar Council Of India (BCI), National Council for Teacher's Education(NCTE) and affiliation to Dr. APJ Abdul Kalam Technical University, Lucknow, Uttar Pradesh, and Ch. Charan Singh University, Meerut, Uttar Pradesh.
About the Competition/Event/Opportunity
About the Conference
The major objective and focus of this conference is on the evolving area of Human Resource Management for sustainability in business viz., sustainable Human Resource Management, the source of sustained competitive advantage. This conference will also focus on the Critical reflection of existing concepts, theories, or frameworks requiring refinement for carving a role for Human Resource Management in creating sustainable organizations. This conference is aimed to discuss, discover, innovate and deliver in the emerging areas of Human Resource Management for creating sustainability in businesses.
Eligibility/Prerequisites
Call for papers
Human Resource: Talent Management, Behavior / Cognitive Psychology, Counseling Psychology, Big Data Analytics in HRM, Knowledge Management, Work-Life Integration, Change management in competitive organizations, Managing Employee Performance.
Finance: Financial Services, Corporate Disclosure & Integrated Reporting, Corporate Restructuring, New Dimensions of Digital Payments, Mergers & Acquisitions, GST, Tax Reforms, Corporate Governance, Global Reporting Initiatives, Micro-finance & Micro-credit for Sustainable Business.
Economics: Environmental Economics, Public Finance, Sustainable Economic Development, International Trade, Investment and Economic Integration.
Higher Education & Entrepreneurship: Social Entrepreneurship, Role of Social and Industry Networks in Promoting Entrepreneurship, Cultural and Linguistic Linkages and Influences in Entrepreneurship
Law: Corporate Regulatory Regimes, Corporate Governance in Digital Era, Code on Wages, Industrial relations, Social Security and workers, Safety.
Important Dates
Date: Feb 27, 2020
Last Date of Submission: Nov 30, 2020
Registration Process
Registration
Benefits/Prizes/Perks
Gain amazing experience
Contact details for more information
Contact
Email: [email protected]
Call: 9910491474