Essay Writing Competition by St. Stephen's College, Delhi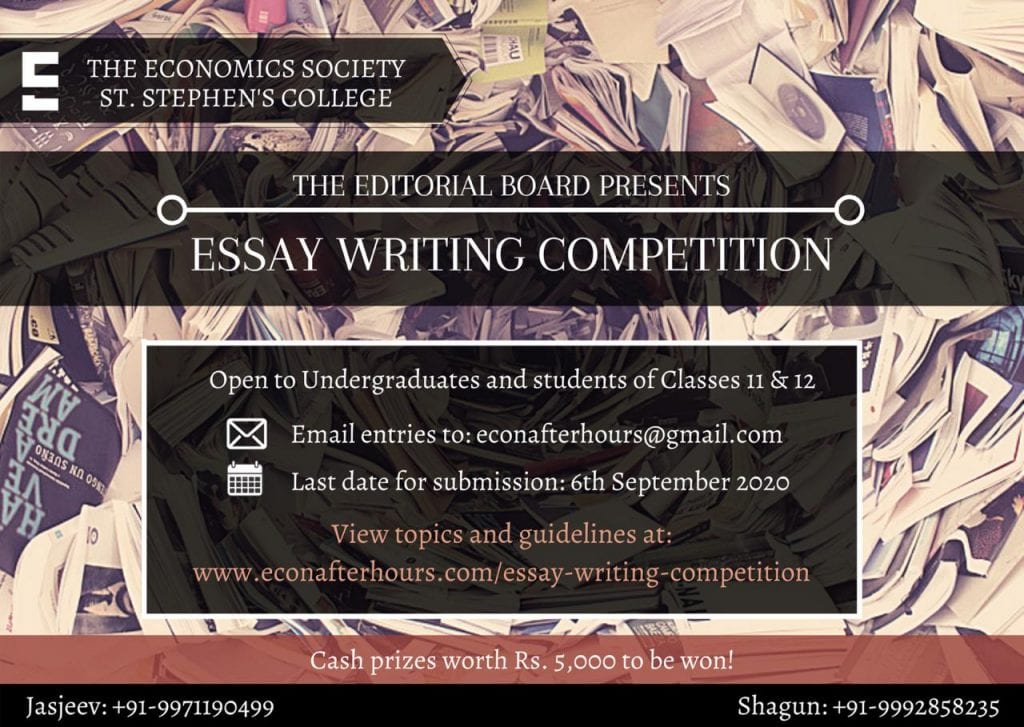 About the Organisation
About the Organiser
St. Stephen's College is a premiere college of the University of Delhi. Widely regarded as one of the oldest and most prestigious college for arts and sciences in India, the institution has produced distinguished alumni in fields like politics, law, journalism, film, and business.
About the Competition/Event/Opportunity
About the Competition
The Economics Society of St. Stephen's College brings to you an Essay Writing Competition for undergraduates and school students (Classes XI and XII).
Topics
School students:
Elucidate the correlation between economic inequalities and the effects of COVID-19.
A certain cryptocurrency has been unanimously approved by all nations of the world as the new legal tender. Assume that the convertibility of current liquid assets held by all the different stakeholders of the society into the new legal tender has no costs and is effortless. Describe the macroeconomic consequences.
Analyze the economic theory behind the working of the society showcased in any one of the following dystopian/fantasy artworks:
Wall-E
Hunger Games
Interstellar
Game of Thrones
College students:
At a certain juncture in the near future, SpaceX has successfully made affordable, regular passage to the planet Mars possible. Describe, how, if at all, would a system of economics work on the Red Planet, beyond the extant conventional schools of capitalism and socialism.
Propound how, if at all, the role of cultural and ethical systems can compose the economic basis, structure, and development of a society.
Assess the viability of the Euro as the common currency in the European Union's single trade and customs union.
Eligibility/Prerequisites
Submission Guidelines
The article must be submitted in the English language only.
The suggested word limit for the essay is 1700-2000 words for undergraduates 1000-1200 for school students, inclusive of citations.
Note that participants who have given their board examinations in 2020 and have not taken admission in college yet, will be classified as school students for the competition.
Citation style must be uniform throughout the document and the MLA citation style must be followed.
All submissions must be original and a bonafide effort of the participants, and should not be submitted for any other purpose except the competition.
The organisers reserve all rights regarding eligibility/qualification/disqualification/publication of the submissions.
Important Dates
Submission Deadline
Sep 6, 2020
Registration Process
Submission Procedure
The essay must be sent by email to [email protected] with the subject "Essay Writing Competition_Name_InstitutionName" along with the contact details and year of study of the participant, on or before 6th September 2020 and by 23:59 IST.
Benefits/Prizes/Perks
Prizes
Cash prizes worth Rs. 5000/-.
Contact details for more information
For any information visit