ICFAI University organizing a webinar on Right to Liberty and Duty to the Community during COVID-19 Pandemic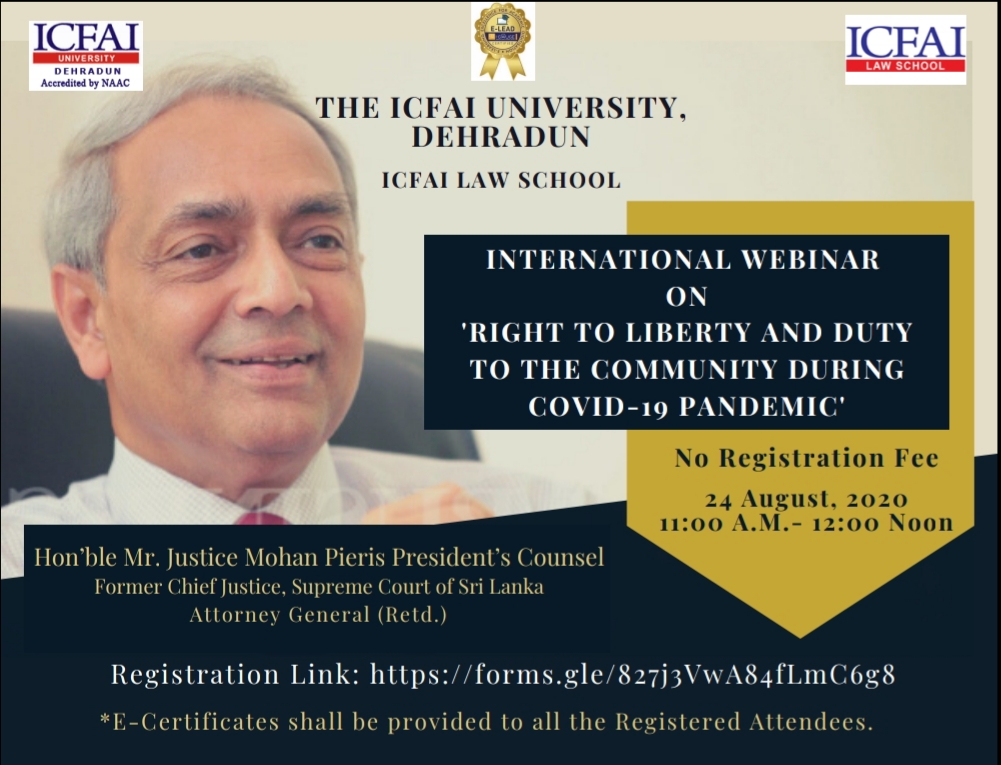 About the Organisation
About ICFAI University, Dehradun
The ICFAI University, Dehradun was established under the provision of the ICFAI University Act, 2003, (Act No.16 of 2003), enacted by the state of Uttarakhand, India. The University is recognised by the University Grants Commission under Sec 2(f) of UGC Act 1956.
About the Competition/Event/Opportunity
About the Webinar
ICFAI University, ICFAI Law School, Dehradun is organising a webinar on Right to Liberty and Duty to the Community during COVID-19 Pandemic.
Keynote Speaker
Hon'ble Mr. Justice Mohan Pieris: President's Counsel Former Chief Justice, Supreme Court of Sri Lanka Attorney General (Retd.).
Hon'ble Mohan Peiris, is a Sri Lankan Lawyer who has served as the Attorney General of Sri Lanka from 2008 to 2011 and became the Senior Legal Advisor to the Cabinet of Ministers in 2011. He was the 43rd De Facto Chief Justice of Sri Lanka from 2013-15. Justice Mohan Pieris was admitted as an Attorney at- Law to the Supreme Court of Sri Lanka in 1975 and as Solicitor of the Supreme Court of England and Wales in 1978.
In 1981 he joined the Attorney General's Department as a State Counsel and retired as Senior State Counsel in 1996.He practiced for a period of 15 years in civil, public law and arbitration. During this time, he trained at the National Institute of Trial Advocacy at Harvard Law School, the Centre for Police and Criminal Justice Studies at Jesus College, Cambridge and at George Washington University.
He has been on several Sri Lanka delegations to international forums: The United Nations Human Rights Council, United Nations Environmental Program, South Asian Agency for Regional Cooperation in Law and Tariff Negotiations with the European Commission.
Eligibility/Prerequisites
Note: There is no Registration Fee.
Important Dates
Date and Time: 24 August, 2020 11:00 AM 12:00 PM
Registration Process
Registeration link
https://docs.google.com/forms/d/e/1FAIpQLSct-mynka6wAMWf62SSQZSAdHkM0WB11d_5CqKUih7sbh9Nig/viewform
Benefits/Prizes/Perks
E-Certificates shall be provided to all the Registered Attendees.
Contact details for more information
Contact Details
Faculty Convenor: Mr. Vishal Bera: Faculty Associate, ILS, ICFAI University Dehradun
Mobile Number: 9830558751
E-mail ID: [email protected]