International E-Conference on Contemporary Research Trends in Language, Literature and Interdisciplinary Studies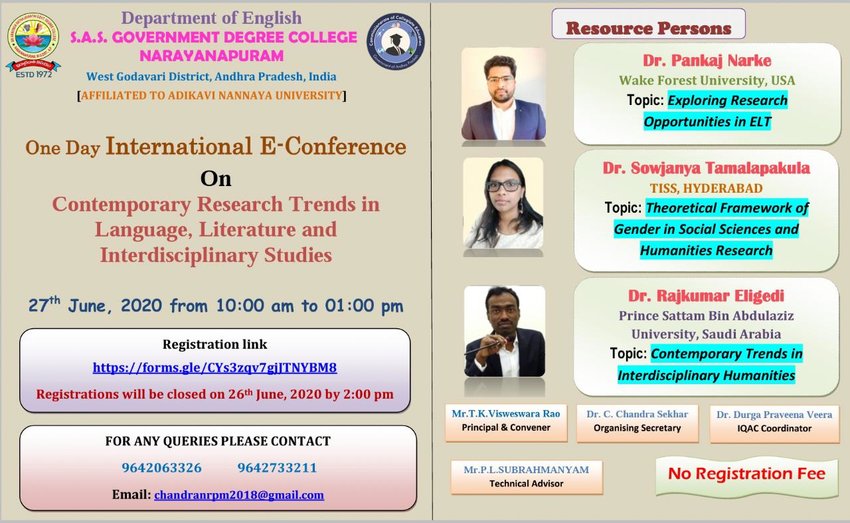 About the Organisation
Department of English, SAS GDC, NARAYANAPURAM affiliated to Adikavi Nannaya University, Rajamahendravaram, cordially invites you to a one day International E-Conference on Contemporary Research Trends in Language, Literature and Interdisciplinary Studies
About the Competition/Event/Opportunity
The Resource Persons are
Dr. Pankaj Narke
(Wake Forest University, USA)
Topic: Exploring Research Opportunities in ELT.
Dr. Sowjanya Tamalapakula
(TISS – Hyderabad, India)
Topic: Theoretical Framework of Gender in Social Sciences and Humanities Research.
Dr. Rajkumar Eligedi
(Prince Sattam Bin Abdulaziz University, Saudi Arabia)
Topic: Contemporary Trends in Interdisciplinary Humanities.
Eligibility/Prerequisites
any one can join this webinar
Important Dates
27th June, 2020 from 10:00 am to 1:00 pm
Registration Process
Registration is free.
Please click the following link for registration
https://forms.gle/CYs3zqv7gjJTNYBM8
Benefits/Prizes/Perks
you can gain various knowledge on Contemporary Research
Contact details for more information
Also join our telegram group for further Communication using the below link👇🏻