JOB POST: Video Editor & Instructional Designer at IIM Bangalore: Apply by Oct 4 & 10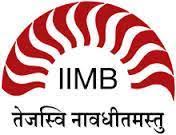 About the Organisation
Indian Institute of Management (IIM), Bangalore is among the top graduate schools for Management education in Asia. Established in the year 1973, it admits over 1,200 students across several programmes every year. Accredited by EQUIS since 2019, it is the only Indian Management B-school in the Global Network for Advanced Management, a Yale-initiated network of 32 top-notch global B-schools. In the recently released NIRF 2020 ranking, IIM Bangalore was ranked 2 among the top 100 B-schools in India. Located at Bannerghatta Road, Bengaluru, it is in proximity to some of the leading corporate houses in the country thus maintaining a great track record of placements with every passing year.
About the Competition/Event/Opportunity
IIM Bangalore invites job applications for Video editor for the year 2020. Interested candidates can check out full details of the same here.
Video Editor
Responsibilities: Complete support for individual faculty members and content team for video recording. Video editing/post-production. Video content management. Individual project tracking and reporting. Coordinate and communicate with the all stakeholders on their projects and their status. Setup travel arrangements on requirement basis.
Eligibility/Prerequisites
Required skills: Vocational courses/Demonstrated proficiency in IT/Electronics/Media/education are an added advantage. Demonstrated proficiency in handling professional audio/video equipment (HD-SDI camera, video switcher, convertor, audio mixer and amplifier). Should be fluent in English, Hindi and knowledge of Kannada will be added an advantage. Proficiency with MS Office. Excellent written communication skills.
Qualification: Candidate should have a First Class graduate/ post graduate degree or 3-year diploma in audio video production field. Should have minimum 1-2 years' experience in handling the assignment listed under major duties & responsibilities above. Experience in e-learning projects is desirable.
Important Dates
Closing date for applications is October 04, 2020
Registration Process
Application: Interested candidates can apply via this page.
http://iimberpsrv.iimb.ernet.in/prod/pfonlapp.home
Benefits/Prizes/Perks
Monthly CTC will be in the range of Rs. 33,000 – Rs. 39,000
Contact details for more information
unavailable