Junior Project Accountant at IIT Gandhinagar [2 Vacancies]: Apply by Oct 5 Applications are invited for Two (2) temporary position of 'Junior Project Accountant" at Research & Development Office, IIT Gandhinagar.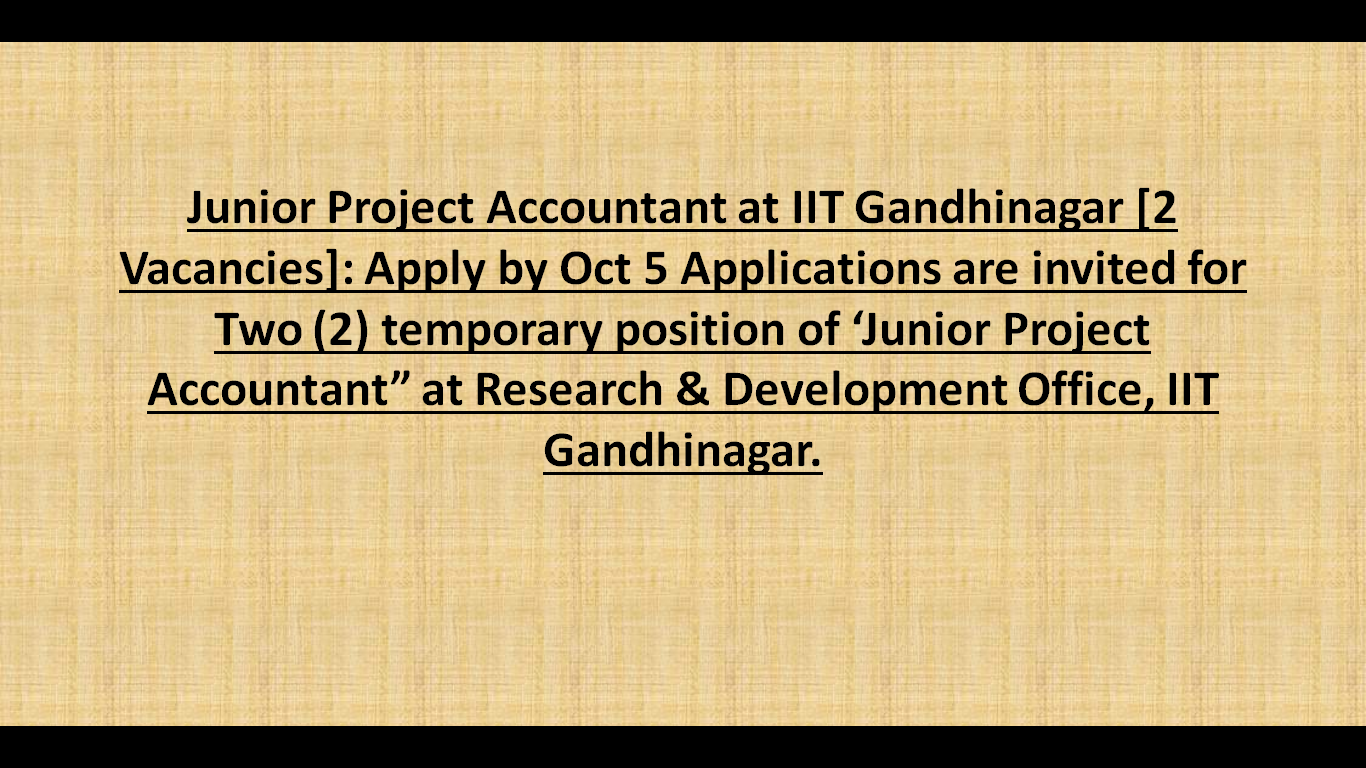 About the Organisation
About IIT Gandhinagar
IIT Gandhinagar offers an unique undergraduate and graduate education experience in India with unmatched innovations in curriculum. We take pride in our student-centric philosophy resulting in a safe, nurturing, and empowering environment for students.
The institute promotes critical thinking and an appreciation of the interdisciplinary character of knowledge, with an emphasis on the liberal arts, project oriented learning, compulsory courses in design and the life sciences, diversity and globalization.
About the Competition/Event/Opportunity
Post details
Name of the Post: Junior Project Accountant
Tenure: One Year
PI: Prof. Amit Prashant
Eligibility/Prerequisites
Eligibility
Educational Qualification B.Com/ B.B.A (Finance)/C.A. (Inter) with at least 55% marks with two years' post qualification experience in accounting Or Qualified C.A. with at least 55% marks.
Desirable Knowledge of current versions of Tally or such other accounting software.
Age Limit 27 years as on the last date of submitting the application.
Important Dates
Interested candidates may apply online via this page on or before 5 October 2020
Registration Process
How to apply?
Interested candidates may apply online via this page on or before 5 October 2020. Selection will be based on interview of the shortlisted candidates. The date, time and place of Interview will be communicated to the shortlisted candidates through email.
Benefits/Prizes/Perks
Salary
Consolidated Monthly Pay: Rs. 20,000/- to Rs. 35,000/- (Based on the experience and credentials of the candidate).
Contact details for more information
https://www.iitgn.ac.in/