Knight-Hennessy Scholars Program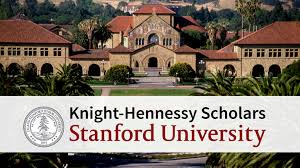 About the Organisation
Knight-Hennessy Scholars will prepare a new generation of leaders with a deep academic foundation and the broad skill set to develop creative solutions to effect positive change in the world.
Numerous intersecting challenges confront the world today: widening gaps in opportunity and income; declining livability caused by population growth and environmental degradation; social instability owing to structural inequality and intergroup conflicts; persistent human health challenges despite rapidly rising costs. The world needs leaders in government, business, and nonprofits who can creatively address society's thorniest problems.
Stanford University - with seven world-class graduate schools that foster service, collaboration, innovation, and entrepreneurship - is uniquely positioned to fill this need. The Knight-Hennessy Scholars program will empower an exceptional cohort of graduate students to effect large-scale positive impact across the globe.
About the Competition/Event/Opportunity
Every year more than 3000 graduate students enroll at Stanford and up to 90 students become Knight-Hennessy Scholars. These students span all seven schools at Stanford. Candidate must apply to and should be accepted by a graduate program at Stanford to apply to Knight-Hennessy Scholars.
Eligibility/Prerequisites
Applicants from any country are welcome.
You must have a Bachelor's Degree in any discipline.
You are not eligible if your Bachelor's or Master's Degree is completed before 2014.
Candidates who will earn their undergraduate degree by September 2021 are also eligible.
Important Dates
14 Oct'20, 12:00 AM IST - Registration Deadline
Benefits/Prizes/Perks
Scholarship.
Other Details
Candidates must submit two applications:
Application for Knight-Hennessy Scholars (online)
Application for Stanford Graduate Program
Candidates must meet all the requirements for admission to their home graduate program.
Contact details for more information
+1.650.721.0771