LECTURE on " Basics of Double Tax Avoidance Agreements."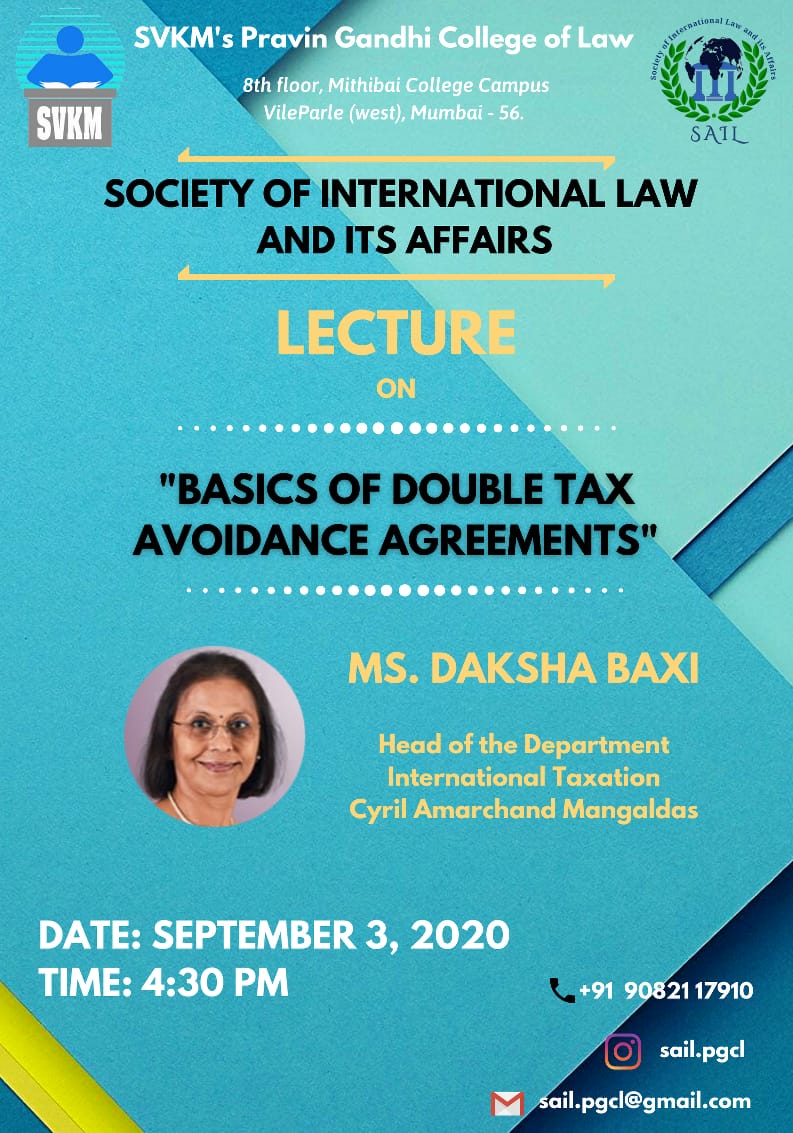 About the Organisation
About the college
Shri Vile Parle Kelavani Mandal (SVKM) is a Public Charitable Trust registered under the Societies Registration Act, 1860 and The Bombay Public Trusts Act, 1950. SVKM has always been committed to the cause of providing high quality education at various levels. SVKM Pravin Gandhi College of Law situated at Ville parle, Mumbai, offers the 5 year law course of BLS LLB; under the auspices of Mumbai University.
About the society
The Society of International Law and its Affairs, is conducting a Lecture on "Basics of Double Taxation Avoidance Agreement" by Ms. Daksha Baxi. The Society of International Law and its Affairs is a committee at SVKM's Pravin Gandhi College of Law dealing with events and affairs at an international level encompassing International Law, Current affairs, International Relations and development of proficient skills amongst students.
About the Competition/Event/Opportunity
About the Lecture
As taxation continues to be the backbone of revenue all over the globe, the Society of International Law and its Affairs at SVKM's Pravin Gandhi College of Law presents a LECTURE on " Basics of Double Tax Avoidance Agreements."
The lecture will focus on the concept of double taxation, role of Double Taxation Avoidance Agreements between States, the objective and advantages of DTAA, core aspects of Private International Law and Jurisdiction which are relevant to the lecture, and certain key principles of corporate law as attracted while dealing with taxation of corporations in cross border situations.
Attendees will be provided the opportunity to ask relevant questions to the lecturer following the lecturer's presentation.
About the Lecturer
Ms. Daksha Baxi is the Head of International Taxation at Cyril Amarchand Mangaldas which is one of the most renowned law firms in the nation. She has vast experience in International Taxation of over 30 years. She has advised clients on all aspects of taxation, including structuring of cross border mergers and acquisitions, restructuring and reorganisations as well as spin off of businesses to unlock valuation. Furthermore, she has successfully advised clients in tax controversies before various forums and tax authorities on issues ranging from availing the tax treaty benefits to contesting invocation of anti-avoidance rules and characterisation of income.
Ms. Baxi is recognized as a leading tax professional in India by various league tables and ranking forums including but not limited to International Tax Review Leading Women in Tax, Legal 500, Chambers & Partners, Asia Leading Lawyers, Whos's Who Legal, et al.
Eligibility/Prerequisites
Law students/Professionals/Anyone interested in learning the Basic for Double Taxation Avoidance Agreements and International Tax Law.
Important Dates
Date: 3rd September, 2020
Time: 4:30 pm
Deadlines/dates: Registrations to be closed upon reaching 200 unique registrations.
Registration Process
Platform: MS teams,
The link to join the meeting will be shared on the registered email of the attendees as well as on the WhatsApp group in accordance with the registration procedure.
Brief instructions about MS Teams will be provided therewith.
Registration link: https://forms.gle/6BypmuzzsGjM7Ux26
(Join the what's app group through the link provided after submitting the registration form)
A day prior to the lecture the meeting link and instructions with regards to MS Teams will be shared on the WhatsApp group and registered email ID.
Benefits/Prizes/Perks
E- certificates will be provided
Limited seats only!
Other Details
Location (country/state/city)
PGCL is located in Mumbai, Maharashtra.
The lecture location will be online on the platform MS Teams.
Fee Details
Participation: Free
Contact details for more information
Vidhi Dugad: 9082117910
Vanshika Shroff: 9769187081
E-mail: sail.pgcl[at]gmail.com
Blog: sailpgcl[at]wordpress.com