Litigation Techniques Post COVID-19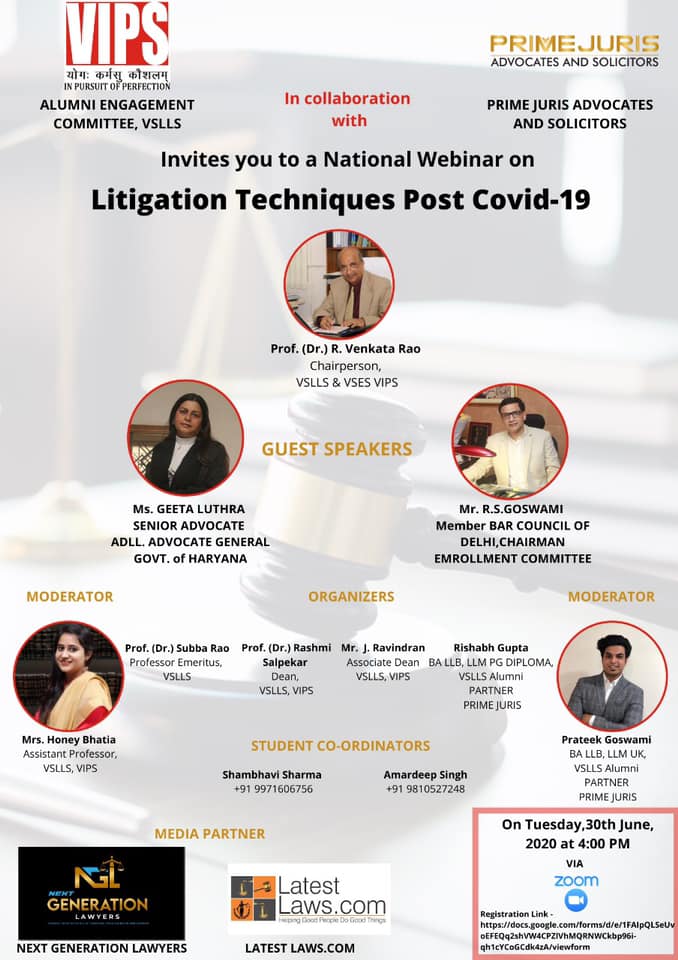 About the Organisation
Vivekananda Institute of Professional Studies is a college which is affiliated to IP University. It Provides various course like Law, Mass Communication, English Hons and various other professional courses.
About the Competition/Event/Opportunity
There is going to be a National Webinar Seminar on the most interesting thing which is litigation post COVID-19. this seminar will focus on various techniques, ways and the approaches which has been opened and many strategies that will be opted by the legal system of India during and after the global pandemic. Many senior advocates and professors will be discussing about the opportunities for the lawyers in this seminar. This seminar will be conducted through zoom video conferencing platform.
Eligibility/Prerequisites
students of legal knowledge
Important Dates
Seminar: 30th June 2020. 4pm
Registration Process
https://docs.google.com/forms/d/e/1FAIpQLSeUvoEFEQq2shVW4CPZlVhMQRNWCkbp96i-qh1cYCoGCdk4zA/viewform
Benefits/Prizes/Perks
Knowledge and insight about the approach
Contact details for more information
amardeep Singh- 9810527248