National E-seminar on Development of Arbitration and Mediation Regime in India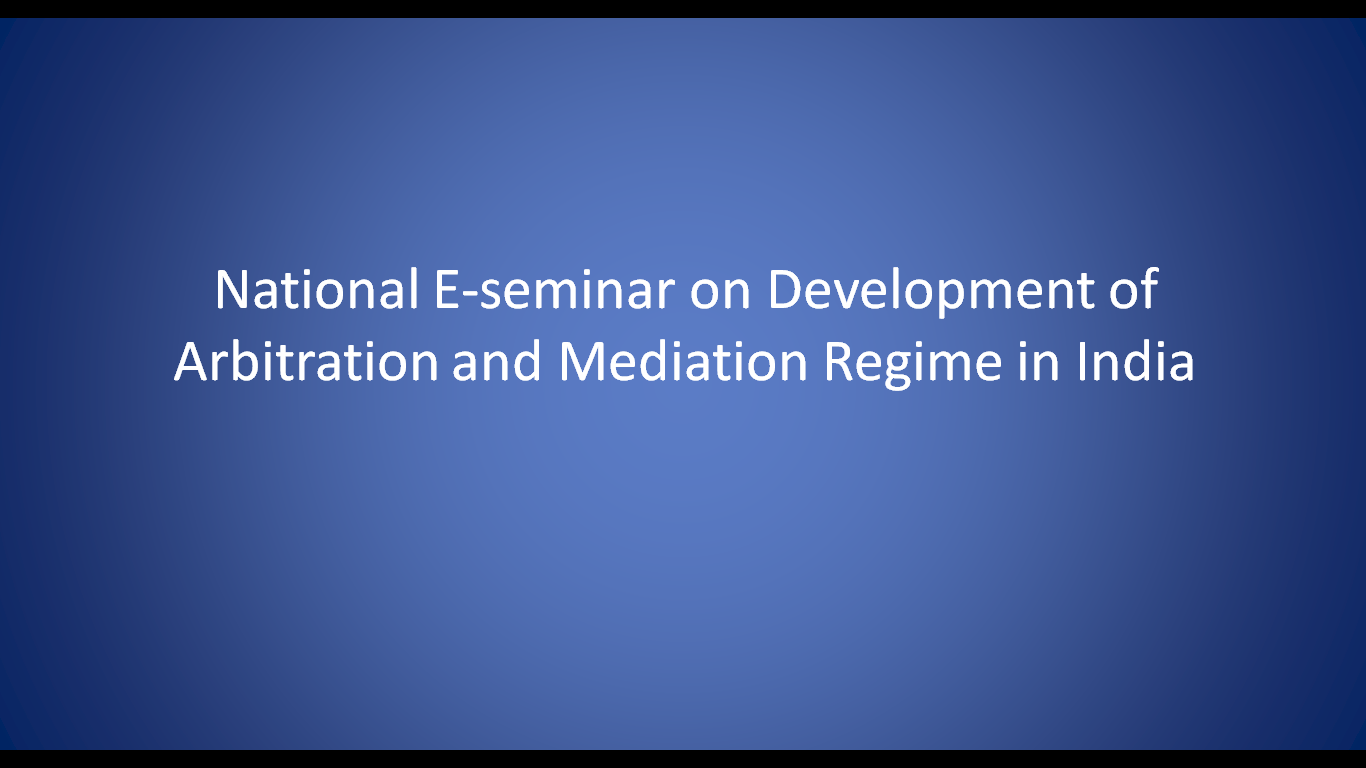 About the Organisation
ABOUT GEETA INSTITUTE OF LAW (GIL)
We feel honored to mention that ours is a galaxy of eleven Institutes under the banner of Geeta Group of Institutions (GGI). The broad motive behind our venture is to produce quality human resource bank in the field of law, engineering, science, management, education and other allied fields.
Geeta Institute of Law (GIL) was established in 2007. The College has its unique teaching and learning techniques and is one of the prestigious Law Institute in India, offering BA.LL.B(Hons.), BBA.LL.B(Hons.), LL.B (3Years) and LL.M (2Years) programs. It has been ranked among top 35 law institutes in India by India Today (2018- Special Edition) Ranking. The institute is closely located on NH-1, G.T. Road Panipat.
ABOUT RAJIV GANDHI NATIONAL UNIVERSITY OF LAW (RGNUL), PUNJAB
Rajiv Gandhi National University of Law (RGNUL), Punjab, was established by the State Legislature of Punjab by passing the Rajiv Gandhi National University of Law, Punjab Act, 2006 (Punjab Act No. 12 of 2006). The Act incorporated a University of Law of national stature in Punjab, thereby fulfilling the need for a Centre of Excellence in legal education in the modern era of globalization and liberalization. The University also got registered with the University Grants Commission (UGC), New Delhi under Section 2(f) of the University Grants Commission Act, 1956 and has been declared fit to obtain grant from the (UGC) under Section12-B of the UGC Act, 1956. The University has set up a Legal Aid Clinic under the aegis of Punjab Legal Services Authority. The University has also set up the Internal Quality Assurance Cell (IQAC) as per UGC guidelines.
About the Competition/Event/Opportunity
THEME OF THE E- SEMINAR
Development of Arbitration & Mediation Regime in India: Discussing the Challenges, Solutions & Future Prospects
SUB THEMES
1) Role of Arbitration & Mediation in reshaping Indian Legal System
2) Effectiveness of Mediation in Present Justice Delivery System
3) E- Arbitration and E- Mediation
4) Recognition and Enforcement of Arbitration and Mediation awards
5) Need to enact Mediation Act
6) Mediation in Civil Disputes
7) Enforcement Agencies involved in Mediation: Challenges and Remedies
8) Mediation in Matrimonial Disputes
9) Online Mediation in India: Future Prospects
10)Mediation in Consumer Disputes Cases
11) Arbitration v. Litigation
12)Inter disciplinary issues and Arbitration
13)Mediation in Industrial Dispute and Labor Law
14)Indigenous form of Dispute Settlement: Relevance in present perspective
15) Negotiation and Mediation in Banking Sector
16) Arbitration and Technology: Blockchain Arbitration and Smart Contracts in India
Eligibility/Prerequisites
Who is it for/eligibility
The program has been specifically designed for students, Faculty Members, Research Scholars and Research Associates, academicians and professionals from all Institutes / Departments / Colleges of Law.
Important Dates
Deadlines/dates
· Submission of Abstract 31st Auggust 2020
· Confirmation of Abstract 2nd September 2020
· Submission of Full Paper 14th September 2020
· Confirmation of Selected Papers for Presentation 16th September 2020
· Submission of Registration Form with Fee (Soft Copy)
· In case of DD, DD must reach GIL by 20th September 2020
· National E- Seminar 26th September 2020
Registration Process
Registration Procedure
Participants have to register by sending the Registration Form to [email protected] on or before 20 September, 2020.
Benefits/Prizes/Perks
Gain some Amazing Experience
Other Details
Fee Details
For Indian Participants:
STUDENTS : 300/
ACADEMICIANS AND PROFESSIONALS/ RESEARCH SCHOLARS: 500/-
Participants outside India:
STUDENTS: USD 10
RESEARCH SCHOLAR /ACADEMICIANS AND PROFESSIONALS: USD 300
MODE OF PAYMENT
Payment can be made through RTGS/NEFT/IMPS or Demand Draft. DD can be drawn in favor of Geeta Institute of Law, payable at Panipat.
Payment through RTGS/NEFT/IMPS can be made on following bank account.
BANK Name HDFC BANK LTD, Samalkha A/c No. 13251450000062
IFSC code: HDFC0001325
Pin code : 132101
Account Type : Saving
Demand Draft (Crossed DD to be drawn in favor of "GEETA INSTITUTE OF LAW, payable at Panipat)
NOTE: Registration Fee is not refundable.
Contact details for more information
Contact information
1. Mr. Anil Vats, Assistant Professor
2. Dr. Gurmanpreet Kaur, Assistant Professor
for more details contact at . [email protected]
or call on [Mobile Number] 9991118639
Official link
http://www.geetalawcollege.in/