ONLINE ARTICLE WRITING COMPETITION BY INDIA LAW AND POLICY BLOG & CORP COMM LEGAL: SUBMISSIONS OPEN!!!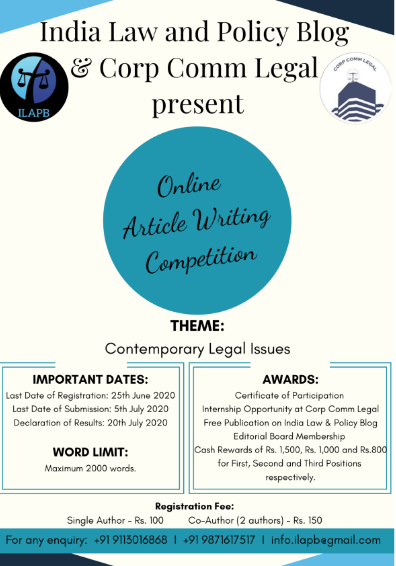 About the Organisation Greetings from India Law & Policy Blog! India Law and Policy Blog (ILAPB) & Corp Comm Legal are organizing an Online Article Writing Competition which will provide all law students a platform to engage themselves in critical thinking and enhance their writing skills.
About the Competition/Event/Opportunity The competition is open to all law students pursuing 5-year integrated course as well as 3- year LL.B course and pursuing LL.M Degree from any recognized college or university.
Eligibility/Prerequisites Registration Fee: Rs. 100/ Rs. 150 [Single/Co-Author]
Important Dates * Last Date for Registration: 25th June 2020. * Last Date for Submission: 5th July 2020. * Declaration of Results: 20th July 2020.
Registration Process Registration Fee: Rs. 100/ Rs. 150 [Single/Co-Author] Make the requisite payment through- Paytm – 7665122251 GPay – 7665122251 UPI ID – [email protected] After successful payment, all the participant(s) must fill the registration form at https://forms.gle/z7Nup4fQbNzvw2KU7 Please send your entries at – [email protected] For any further information or clarifications,
Benefits/Prizes/Perks Certificate of Merit. * Cash Rewards of Rs. 1,500, Rs. 1,000 and Rs. 800 for First, Second and Third Positions respectively. * Internship Opportunity at Corp Comm Legal. * Free Publication of the Article at India Law and Policy Blog along with a Certificate of Publication. * ILAPB Editorial Board Membership. PLEASE NOTE: Each participant shall be provided with a Certificate of Participation.
Contact details for more informationFor any further information or clarifications, please reach out to: Email: [email protected] Contact No: +91 9113016868 / +91 9871617517 Official Website: www.ilapb.com