Online Summer Program for High School Students on Bioinformatics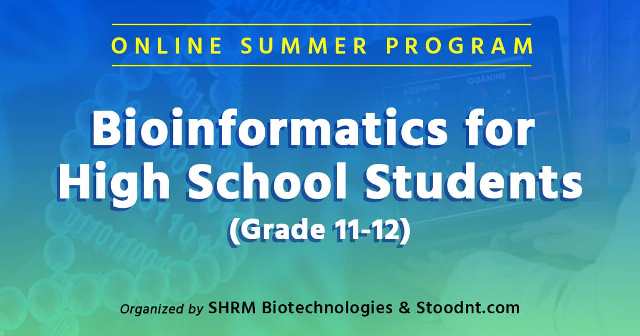 About the Organisation SHRM Biotechnologies partnered with Stoodnt to design an online bioinformatics training program for motivated high school students. This online program is built to give a broad overview of molecular biology, systems biology, and bioinformatics analysis through user-friendly software tools.tudents will also learn how to apply bio-statistics, data analytics to tackle a variety of challenges within drug discovery, and biomedical sciences. This program will allow a high school student passionate about biology & science to be able to ask the right question, find the data, and perform complex analysis.
About the Competition/Event/Opportunity Theme: Preparing War Machines against COVID-19 The online program will serve as the ideal online summer camp wherein students will understand, learn and appreciate the importance and technical know-how of drugs and drug designing against COVID-19, which is the need of the hour and for years to come. The program will also involve thoughtful assignments and case studies for the students so that they make the most of it.
Eligibility/Prerequisites The program is primarily intended for high school students in Grade 11 and Grade 12. However, Grade 10 students who have a deep interest in Computer Science, Coding, Biology along with some advanced exposure (ICT, Coding, etc.) are also welcome. This program has been tailored for the bioscience students of Class 10 – 12. This is the most crucial growth period in terms of technical knowledge that makes a difference to the student's career as well as to the scientific community.
Important Dates Batch-1: May 25 – June 5 Batch-2: June 8 – June 19 Batch-3: June 29 – July 10 Max 15 participants per batch Monday, Wednesday, and Friday (6 pm – 8 pm) for 2 weeks
Registration Process Rs. 7,500 + GST (total Rs. 8,850).
Benefits/Prizes/Perks The program will also involve thoughtful assignments and case studies for the students so that they make the most of it. Certificates will be provided to the students (by SHRM Biotechnologies and Stoodnt) only on the successful completion of the program, assignments, and case studies
Other Details Registration form: https://docs.google.com/forms/d/e/1FAIpQLSd1zBOw-eUy2fs8f2sfdsbq6Gcu_FxRCO11YykH9EIu_MgWwA/viewform
Contact details for more informationFaculty Members and Trainers Dr. Deborshi De, AVP, SHRM Biotechnologies Pvt. Ltd. (Ex Colorado Technical University, MIT, Presidency University) Dr. Nilanjan Banerjee, Senior Research Fellow, Bose Institute Pallavi Mitra, SHRM Biotechnologies Pvt. Ltd. (WHO Certified and Ex St. Xaviers [Gold Medalist], Lady Brabourne College) Mayukh Bose, SHRM Biotechnologies Pvt. Ltd. (Ex-West Bengal State University and WHO & UN Certified) Tanmoy Ray, Stoodnt, Inc. (Ex Oxford, Utrecht University, UNSW, Aston University, WBUT)