VITT-CRYPTOTHON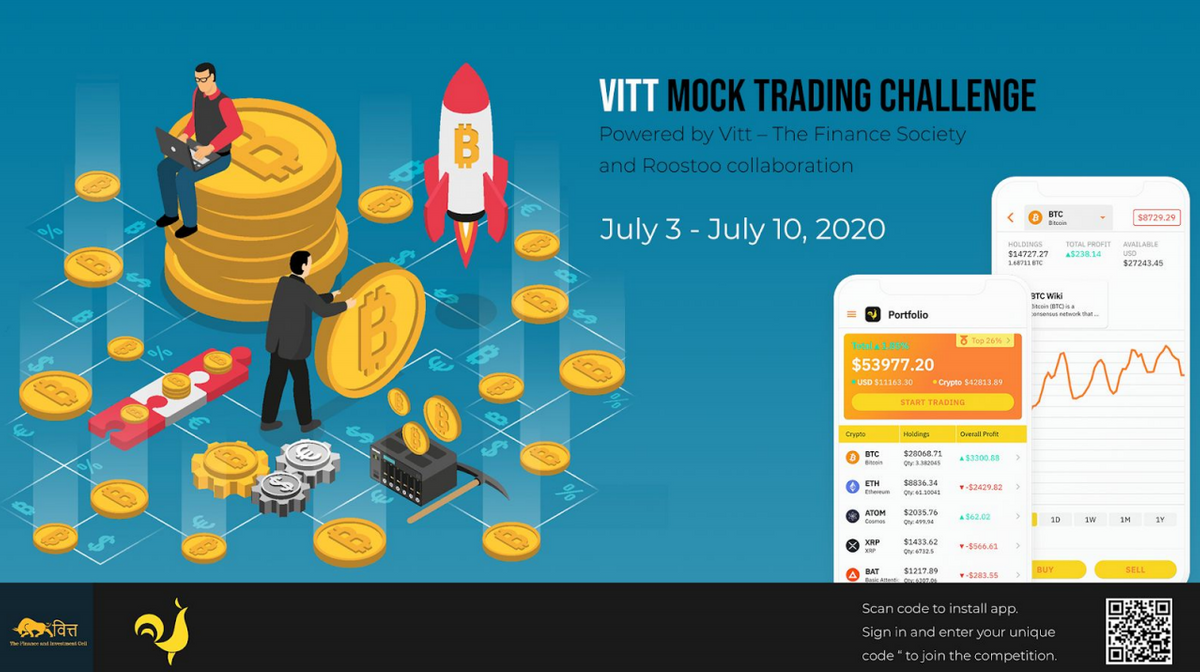 About the Organisation
Vitt – The Finance Society of Maharaja Surajmal Institute (MSI), New Delhi is proud to announce that we have partnered with Roostoo, a cutting-edge startup from the University of Southern California in the USA, to host the first annual Vitt Mock Crypto Trading Competition!
About the Competition/Event/Opportunity
Competition Details:
Invite and compete with your friends to see who has the best investing instinct! Vitt Mock Trading Challenge is a week-long mock crypto trading contest utilizing Roostoo's mobile app. The entire competition is conducted virtually on the Roostoo app.
At the intersection of blockchain technology and financial use cases, cryptocurrency is an emerging global asset class progressively adopted by the young digital generation. Cryptocurrency provides a new and exciting global digital asset that is increasingly relevant to the younger generation. It is being regulated and approved by global financial regulators like the SEC (USA), MAS (Singapore), SFC (Hong Kong), and FCA (UK).
Students can expect to gain experience in trading cryptocurrencies with the week-long Mock Trading Challenge utilizing Roostoo's mobile app and web. Through this initiative with Roostoo, Vitt Finance Society hopes to promote investment analytics in crypto markets, fintech innovation, and understanding in an emerging digital asset class.
Eligibility/Prerequisites
Anyone above the age of 18 years can apply
Important Dates
Trading starts at 3 July, 2020 and goes on till 10 July, 2020
Registration Process
Register now!
After registering, please join the following whatsapp group. All the further steps and information will be posted there.
https://chat.whatsapp.com/KVHDgHP1CIa9rqM6ur4ihg
Benefits/Prizes/Perks
☑️ No entry fee 😍😍
☑️Winners will be getting certificates!
Contact details for more information
For any queries please contact -
Shivam - +919354163448
Nitya - +919210588869
Parth - +918595096262