VSLLS' Research Paper Writing Competition on Impact of COVID-19 on Law, Policy and Governance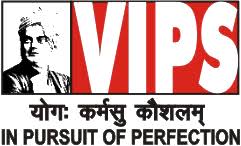 About the Organisation
ivekananda Institute of Professional Studies (VIPS) is founded on Swami Vivekananda's philosophy of 'Man Making, Character Building and Nation Building'. VIPS was established in the year 2000 with a vision to establish, maintain and promote Centers of Excellence for imparting quality professional education in India and abroad.
VIPS is affiliated to Guru Gobind Singh Indraprastha University (GGSIPU), Delhi. It has been recognised and approved by Bar Council of India and the All India Council of Technical Education and has also been recognised under section 2(f) of the UGC Act.
Since the inception of Vivekananda School of Law and Legal Studies (VSLLS) of Vivekananda Institute of Professional Studies (VIPS) in the year 2000, it has produced twenty-five University gold medallists, thirty-six Judicial Officers.
About the Competition/Event/Opportunity
Vivekananda School of Law and Legal Studies (VSLLS), Vivekananda Institute of Professional Studies is organizing an International Research Paper Writing Competition on "Impact of COVID-19 on Law, Policy and Governance". There are a variety of sub-themes under the same which can be used for writing the papers.
Sub-Themes
COVID-19: Privacy Rights and Cybersecurity risks
Protecting Workers' Rights through the COVID-19 crisis
COVID-19 and Businesses
Public health and role of state with special reference to the coronavirus crisis
COVID-19: The Rule of law and democracy
Intellectual Property Rights and relevance of Compulsory Licensing in the time of COVID-19.
COVID 19: Digital technologies and Artificial Intelligence
COVID 19: Cyber laws and cyber crimes
Relevance of ethics during the Coronavirus crisis
Schools of Jurisprudence and COVID-19
Legal view of measures taken to tackle COVID-19
Critical appraisal of law and order machinery during COVID-19
Media and the Coronavirus crisis: Limitations of the Freedom of Speech
Legal appraisal of vaccination trials and emergency health measures
COVID-19 and the Future of International Law
Eligibility/Prerequisites
students pursuing LL.B. (3 year and 5 year)/LL.M courses from any recognized university.
Important Dates
Last date for Registration: 25th November 2020
Last date for Submission: 20th December 2020
Announcement of result: 31st December 2020
Registration Process
Interested students are required to fill the duly completed registration form attached in the brochure and upload the transaction receipt of Rs. 500/- (in case of a single author) and Rs. 600/- (in case of co-authorship) as the registration fee.
Benefits/Prizes/Perks
participation certificate, Experience
Other Details
Query: [email protected]
Contact details for more information
Shivangi: +91 8756979052, [email protected]
Anubhav Seth: +91 7982928321, [email protected]