Webinar on Advice and Guidance on Career in Japan by JETAA [Sep 13, 1:30 PM]: Invitation Open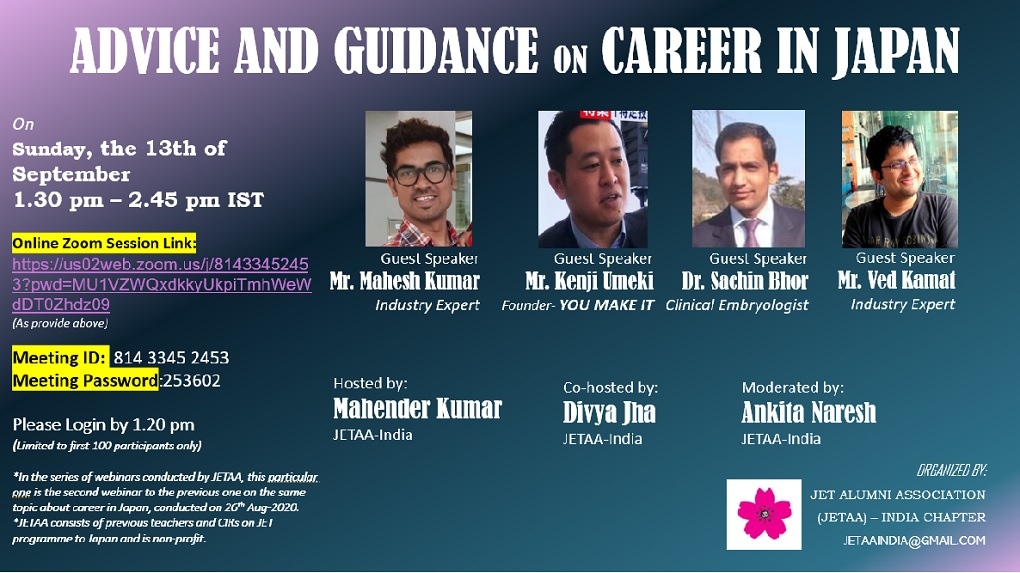 About the Organisation
JETAAI was relaunched in 2016, though we have a long and storied history. We have made it our aim to support and promote the activities and growth of JET alumni associations (JETAA, organised as chapters) around the world, by facilitating the exchange of ideas and information and helping them build networks and connections to each other. We support the JET Programme and current JET participants, reaching out to groups like AJET. And we also act as the point of contact for other organisations and government bodies such as CLAIR.
About the Competition/Event/Opportunity
About the Webinar
JETAA is cordially inviting all on Sunday, the 13th September to a webinar on 'Career in Japan'. They are going to focus on higher education opportunities and employment opportunities, highlight few recent trends and expectations from Japanese companies, along with few important takeaways which hopefully should help you if you are planning a career in Japan.
Eligibility/Prerequisites
Zoom to attend webinar
Important Dates
September 13, 1:30 PM
Registration Process
How to Join?
Interested participants can join the webinar through this link.
https://us02web.zoom.us/j/81433452453?pwd=MU1VZWQxdkkyUkpiTmhWeWdDT0Zhdz09&fbclid=IwAR07_9Kg9fPxuwOTRC_-OSHC3fuqp6t…
Benefits/Prizes/Perks
Get Great Career Guidance
Contact details for more information
https://us02web.zoom.us/j/81433452453?pwd=MU1VZWQxdkkyUkpiTmhWeWdDT0Zhdz09&fbclid=IwAR07_9Kg9fPxuwOTRC_-OSHC3fuqp6t