Webinar on Agriculture Commodity Derivatives Market by Siva Sivani Institute of Management [Oct 14, 3:00 PM]: Register by Oct 13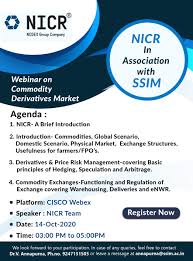 About the Organisation
Located in Secunderabad, Telangana, Siva Sivani Institute of Management (SSIM) was established in 1992. SSIM is the first AICTE-approved B-school with NBA accredited program in the States of Telangana and Andhra Pradesh. The Institute is one of the top business schools across Hyderabad offering Management courses.
About the Competition/Event/Opportunity
SSIM is organizing a National Webinar on Commodity Derivatives Market on October 14, 2020, from 3 PM to 5 PM in association with NICR(NCDEX group company)
Topic "Agriculture Commodity Derivatives Market"
Agenda
NICR- A Brief Introduction
Introduction – Commodities, Global Scenario, Domestic scenario, Physical market, Exchange structures, Usefulness for farmers/FPOs
Derivatives & Price risk Management-Managing Price Risk through Commodity Derivatives Exchange covering Basic principles of Hedging, Speculation and Arbitrage
Commodity Exchanges-Functioning and Regulation of Exchange covering Warehousing, Deliveries and e NWR
Eligibility/Prerequisites
Interested participants can register.
Important Dates
Registration Deadline - October 13, 2020
Registration Process
Interested participants can register for the webinar through this link.
https://docs.google.com/forms/d/e/1FAIpQLSd2BtPdfgSU_O7eG7pJYpRj3BGJEYrYRTNXpyhbSt1uakeplQ/viewform
Benefits/Prizes/Perks
Free Registration
E-Certificate will be provided.
Contact details for more information
Dr. V. Annapurna
Associate Professor, IQAC Coordinator
Phone: 9247131505
E-mail: [email protected]