Webinar on CBI Investigation and Trial Proceedings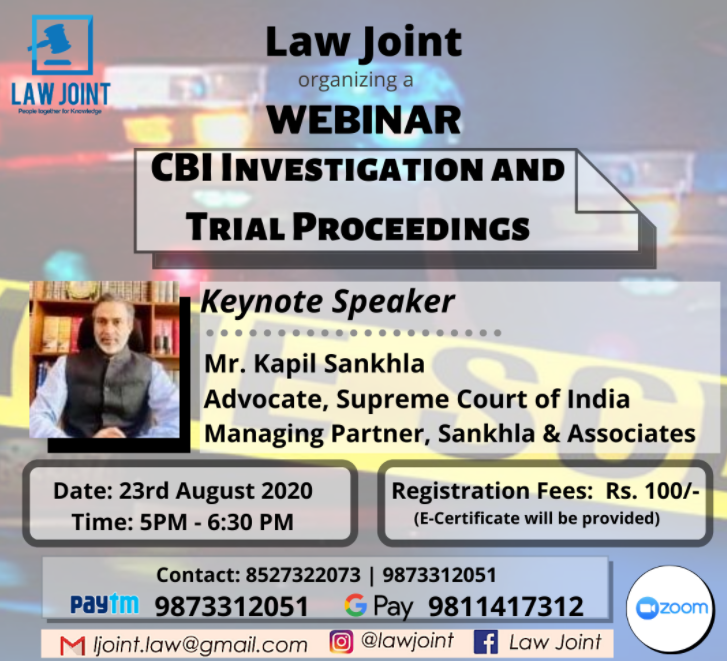 About the Organisation
Law Joint focuses on combining awareness of our students need and strong work ethics to deliver the best legal knowledge to the success of the students and their professional prospects.
About the Competition/Event/Opportunity
Law Joint is organizing a Webinar on CBI Investigation & Trial Proceedings

About the Speakers
Chief Guest: Mr. PK Malhotra: Former Law Secretary, Ministry of Law & Justice, Government of India
Guest of Honor: Adv D.K. Singh: Vice Chairman Bar Council of Delhi
Keynote Speaker: Mr. Kapil Sankhla, Advocate Supreme Court of India
About the Webinar
Date: 23rd August 2020
Timings: 5 PM – 6:30 PM
Zoom Link will be sent 1 day before the event on your registered email.
Eligibility/Prerequisites
anyone interested
Important Dates
Date: 23rd August 2020
Timings: 5 PM - 6:30 PM
Registration Process
https://docs.google.com/forms/d/e/1FAIpQLScBRpb_kJZpwAE03FWRgKWMOaDfy8v5qMLeAZzqftJHGa9NrQ/viewform
Benefits/Prizes/Perks
E-Certificate
Other Details
Fees: Rs. 100/-
Contact details for more information
Mobile Numbers: 8527322073, 9873312051
E-mail ID's: [email protected]