Webinar on Entrepreneurship Post the Pandemic: Challenges and Opportunities by BSNV (PG) College [Sep 12, 5:00 PM]: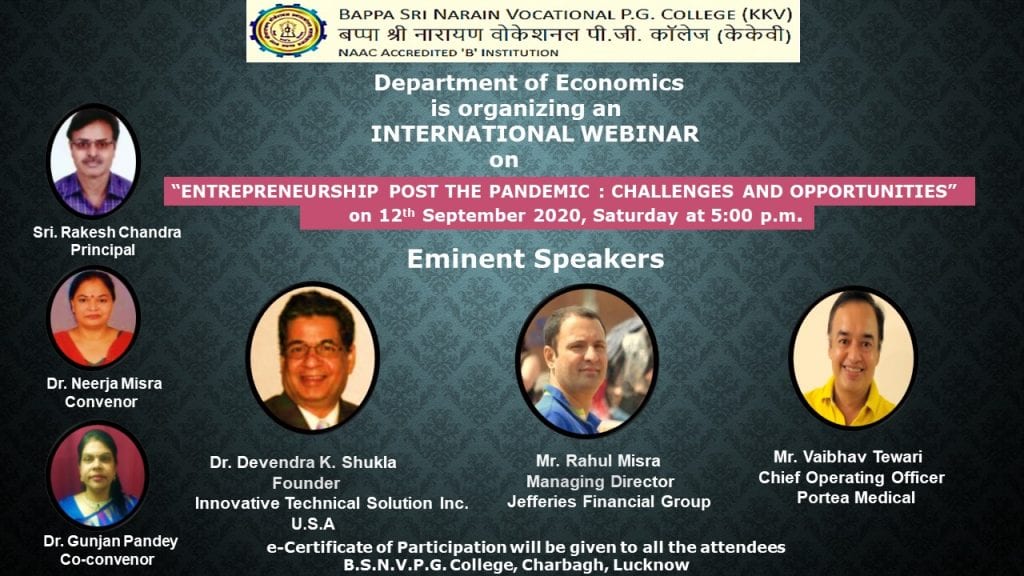 About the Organisation
About the Organiser
Bappa Sri Narain Vocational Post Graduate College has long been recognized as a premier institution of higher learning in India. A center for academic excellence and achievement, it is today one of the finest institution for Science, Arts and Commerce. B.S.N.V.P.G. College (KKV) has pace with the changing world and contributing many innovations in the field of education.
About the Competition/Event/Opportunity
About the Webinar
Where there are challenges, there are hidden opportunities. Entrepreneurs are hoping to mine shifts in consumption patterns and behaviour. The pandemic has also revealed how efficiency often comes at a steep price. Cheap food often relies on poor or hazardous working conditions. "Highly efficient" supply chains have broken down relatively quickly, lacking the resilience to withstand fluctuations of supply and demand.
At its core, the pandemic also reveals a basic dichotomy in what kinds of innovations are desirable by society. Exploitation means getting more out of what we already have built. Exploration is about finding entirely new things. This webinar hopes to enumerate upon these new avenues of exploration, innovation and thereby lead the way forward.
Eligibility/Prerequisites
How to Register?
Interested participants can register for the webinar through this link.
Important Dates
12th September 2020 (Friday)
Timing: 05:00 p.m. onwards
Benefits/Prizes/Perks
An e-Certificate will be provided to all the registered participants.
Contact details for more information
Contact
DR. Neerja Misra (Convenor)
Associate Professor
Email: [email protected]